2022: Year Of Zero-Waste Cleaning
Sustainability Is No Longer A Trend
Today, conscious consumerism is no longer just a 'New Year, New Me' January blip: many consumers are more aware of how their lifestyle impacts the planet and are looking to make a change. Consumers are willing to rethink their buying habits to incorporate environmental and social product benefits into their buying decisions. Choosing responsible product packaging and ingredient sourcing have joined recycling and energy conservation as ways we are shifting behavior to align with our values and principles. With conscious consumerism on the rise and the global climate problem becoming more serious, sustainability is no longer just a niche consumer trend but a business imperative for many brands.
This is certainly the case with Boulder Clean. We have always devoted our efforts to cleaner homes, cleaner communities and a cleaner environment. But a focus for the brand this year and moving forward is zero-waste cleaning, and addressing concerns such as packaging, single-use plastics and carbon emissions.
Sustainability Is Not Just Shopping, It's A Lifestyle
Look, if you have the option to buy a better version of a product, whether it is recycled, organic, plant-based, or reusable, then do it. Every time you decide to buy a more sustainable option, you are sending a message. But, sustainability is not just shopping. Sustainability means adapting. It means not thinking of our planet as a resource to extract for our own profit, but as our home.
Starting Your Zero-Waste Journey
If you're wondering how to start a sustainable lifestyle, I find the best way is by making simple changes. Starting a zero-waste journey isn't all or nothing—you can take small steps to get there.
One step you can make, with just the click of a button, is swapping out your traditional cleaning products for more eco-friendly alternatives.
Boulder Clean is on a mission to provide a more convenient way for people to refill and reuse. Our new refillable cleaning system reconstructs conventional household cleaning products to eliminate single-use plastic packaging, saving consumers money and space while also saving the planet. No component of these products is single-use, so nothing should ever have to end up in a landfill.
While some competitors are willing to sacrifice quality when it comes to product innovation, we are committed to incorporating only the highest-quality, plant-derived ingredients and fragrances to provide a noticeable clean and a pleasant odor that is safe for you, your home and family!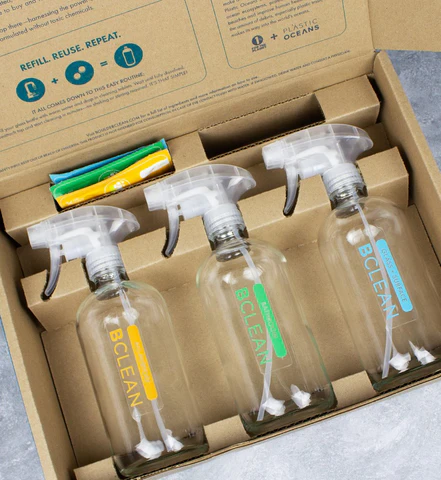 Reuse is the New Recycle
It is now clear that our use of plastics is increasingly threatening for the planet. Much of what consumers hope and believe will be recycled, is simply being incinerated, tossed into landfills, or is winding up in the ocean. So each time you choose to use refill tablets (rather than buying a new plastic bottle of ready-to-use cleaning solution) you are helping to end the "use-and-discard cycle" that is plaguing our lands and seas!
At 1908 brands you can find our employees making the pledge to reduce plastic waste, and increasing their sustainability practices. Our BCLEAN refill kit is set up around the office for easy access in case of any spills or necessary last-minute cleaning.
As we continue to fight for the health of your home and our planet, we have made a company goal to become single-use plastic-free by 2027. It's just one seemingly small step in our zero waste journey. But as with every lifestyle change, it is not about reaching perfection. It is about working with what we have and looking for things to change in our everyday lives, to make it last. After all, if you cannot do it forever, it's unsustainable.