22-Day Spring Cleaning Routine Week 2: The Bathroom
Deep Clean Your Bathroom
It's time to get down and dirty and make your bathroom squeaky clean for spring! Say goodbye to toothpaste splatters and soap scum stains, this week we're tackling towels, the tub, the toilet and everything in between!
The Bathroom Breakdown:
Polish to Perfection:
Clean Bathtub/Shower
Clean Toilet
Clean Floors
Clean Sink
Clean Counters
Deep Cleaning Bonus Points:
Wash Towels, Bathmats and Shower Curtains
Organize Bathroom Drawers and Cabinets
Sneaky Spots You Shouldn't Forget:
Clean Mirrors
Clean Wall Mounts and Light Fixtures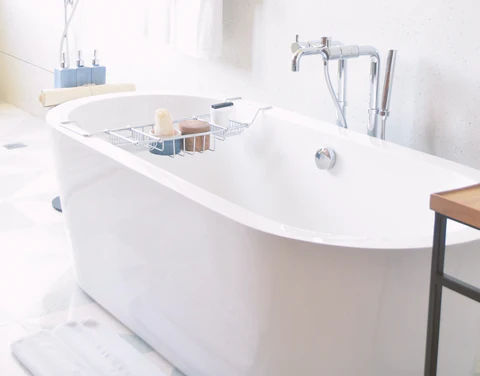 Day 5: Tub & Toilet
When was the last time you gave your tub or shower a good scrub? What about your toilet? If you can't remember, let us be the first to tell you—now's the time to get it done! Remove your razors, body wash and shampoo from your tub so you have a clear space to clean. Using Boulder Clean's Foaming Bathroom Cleaner, give your tub a liberal spray, and allow the foam to penetrate and remain wet for 10 minutes. Then, using a sponge, get scrubbin'! When we say a scrub, we mean a GOOD scrub, work on those pesky stains and that hard water build-up. If you're only going to clean your tub a few times a year, you might as well do a good job so it lasts! Once you've scrubbed it clean, give it a rinse and hit it with a squeegee, this will help reduce future mold and soap scum build up. Before you return your shampoos and washes to the tub, look the over to make sure the bottles are clean and don't have any build up lingering (even on the caps!). If they do, give them a quick rinse.
Now it's time for the toilet. Using Boulder Clean's Toilet Bowl Cleaner, line the rim of your toilet bowl with a layer. Allow the cleaner to spread and settle—let it sit for 10 minutes before scrubbing away stubborn stains. To tackle the rest of your toilet, either use Boulder Clean's Foaming Bathroom Spray, All-Purpose Cleaner or Disinfecting Spray. Make sure you hit both sides of the seat and cover, and don't forget the lid and base!
Day 5 is complete! Your tub is bubble bath ready and calling your name!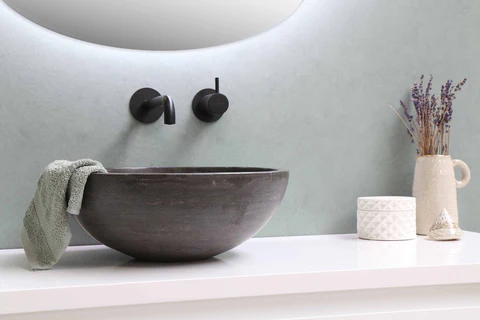 Day 6: Sink & Counters
Your bathroom sink is crawling with germs, bacteria & viruses, and studies show it is even more contaminated than your toilet! Simply due to proximity, your bathroom counters are equally as dirty! Because your bathroom sink and the counters are covered with toothpaste, soap, hair, makeup and other not so pleasant things, it should be deep cleaned and disinfected properly! Start by moving everything off your countertops. Using Boulder Clean's Disinfecting Spray, spray your sink basin and faucet, and your countertops. Let the disinfectant sit for 10 minutes before wiping clean. If you're not sure that once over with disinfectant spray will do the trick you can try starting with Boulder Clean's Foaming Bathroom Spray, or depending on your counters and faucets, Boulder Clean's Granite+ Stainless Cleaner, before hitting your surfaces with a disinfectant. If you start with another product, you can also follow up with a quick wipe down, with Boulder Clean's Disinfecting Wipes.
While you're letting the Disinfectant Spray sit, clean everything that sits on top of your counters. Remove any lingering toothpaste and scum from your toothbrush holder, rise and wipe down your soap dispenser, if you have fake plants (or even real ones!) gently dust the leaves with a wet rag. Once your counters are clean, and fully dry, neatly return everything to its home!
As a side note, if you aren't already deep cleaning your sink, at least bi-weekly, we highly recommend you start making it a habit!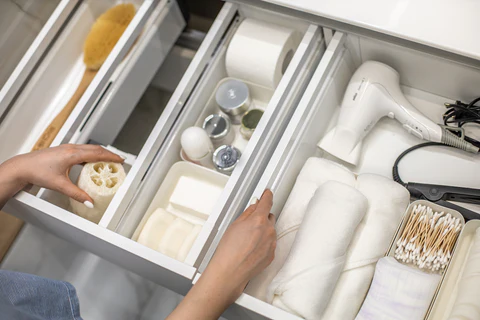 Day 7: Floors, Drawers & Cabinets
Today is equal parts organization and cleaning! If you're like most people, your bathroom drawers and cabinets consist of a hodge podge of hair products, makeup, cleansers, medicine, and various tools—think nail clippers, brushes, hair straighteners, the list goes on— we're going to work on decluttering and organizing all that stuff! To start, get a trash bag and recycling box, and pull everything out of your drawers and cabinets. Sort through all the items and start decluttering! To keep things organized, create three piles— keep, donate and trash/recycle.
Look for:
Expired medication, makeup, and sunscreen
Empty or almost-empty products (get the dregs out and get rid of them)
Stretched out hair ties and broken bobby pins
Any lotions or other products that have separated or smell rancid
Makeup or products that you haven't used in more than a year
Unused makeup and skincare samples
Unused hotel toiletries
Old nail polish that's separated
Duplicate shades of nail polish, or shades you never use
Old toothbrushes you've kept "for cleaning," but haven't repurposed
Any kits (like teeth whitening) you forgot to follow through with
Old, broken, or unused hair styling tools
Duplicate hair tools, like combs and brushes
Duplicate tweezers, nail clippers, eyelash curlers, and other tools
Anything you keep "for traveling" but never actually pack
Accessories for tools you don't have anymore, like chargers and replacement toothbrush heads
Extra buttons, thread, or safety pins
Hair accessories you haven't worn in more than a year
Jewelry you don't wear, or can store somewhere else
Cleaning supplies that belong in another room of the house
Once you've decluttered, it's time to put everything you've decided to keep, back! Before you neatly return the items you're keeping to your drawers, make sure everything is clean. Remove any hair from your brush, rinse off bottles with remnants of a spill, and clean your makeup brushes.
After you've cleaned your items, it's time to prep your drawers and cabinets. Using an all-purpose cleaner or disinfecting spray, dust and wipe down every inch of your drawers and cabinets. Make sure you're wiping any spilled makeup, or lotions, and tackling handles and knobs. Once your drawers are squeaky clean, neatly return your items. Try to organize your drawers and cabinets by putting your most used items closest to you, or place like items together (think nail clippers next to nail files and nail polish).
Next is floors! Vacuum or sweep your bathroom floors, then using Boulder Clean's Multi-Surface Floor Cleaner, give them a good mop! As always, get all of the corners, under your counters, along or under your tub, and behind your toilet! Make sure you start away furthest away from the door, then work your way over to it, this way you can simply close it and allow it to dry without worrying about puppy paw or toddler toes dirtying your sparkling floors!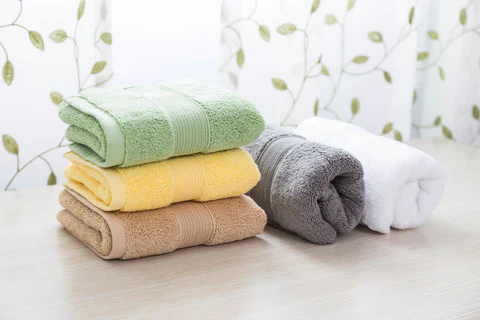 Day 8: Towels & Shower Curtains
After three days of tough work, we figured it's time for a super easy assignment!
Studies show that unless you're washing your towels every few days in hot water with bleach — and making sure to hang them in dry, sunlit areas of your home in between uses —they're most likely covered in harmful bacteria. That gets a big "EWWWWW" from us! So, it's time to tackle your bathroom linens!
Gather all of your bathroom towels, shower curtains (both fabric and plastic!) and your bathmats, and head straight to your laundry room. Using Boulder Clean's Laundry Detergent, run your dirty towels on the hottest setting to give them the deep clean you both deserve! While you're doing a load of towels, you can toss in your shower curtains, yes—the plastic one too! Simply wash everything together the hottest setting at the highest water level. Once your wash is done, you can dry your fabric curtain as you normally would with your towels. As for the plastic liner or curtain, simply hang it to dry.
Time for the bathmats! According to Apartment Therapy, bathmats that have no rubber backing are the easiest to clean and can be washed just as you'd wash towels:
First, shake them out to dislodge any larger dirt and debris. You may want to do this outside.
Next, apply a Boulder Clean's Oxi-Smart Stain Remover Spray to any stubborn dirt and toss in the washer with a heavy-duty laundry detergent!
Bathmats with rubber backing require a bit more care:
If the rubber is already beginning to crumble, it may be time to consider replacing your mats. You definitely don't want to put crumbling rubber mats in the washer because pieces that come off could clog your machine.
If your rubber-backed mats are still intact, wash them on a cold cycle in the washer, again adding a stain-remover to loosen dirt and help combat microorganisms.
To get them dry quickly, you can put these mats in the dryer on low heat, but, preferably, you should hang them to dry. A sunbath, if weather permits, will further brighten and disinfect your mats.
In addition to being clean, your freshly-washed mats will be more fluffy and welcoming than ever. Going forward, plan to wash frequently used bathmats weekly (tie the chore to your bathroom-cleaning routine). Bathmats that are heavily used or don't dry out completely between uses need frequent washing. Less regularly used mats can go longer between washings.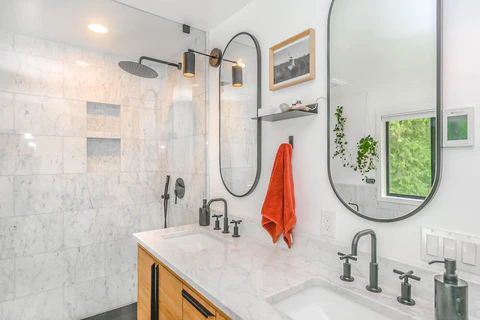 Day 9: Mirrors & Mounts
It's the last day of Week 2! You've already tackled the heavy hitting assignments, now we're just doing some last minute clean ups!
Today we're cleaning mirrors and mounts—it's easy enough, which makes it the perfect assignment for a Friday!
Using Boulder Clean's Glass + Surface Spray and a microfiber cloth, wipe down your mirrors making sure there are no more toothpaste splatters and hairspray droplets!
Next, move on to mounts. Most people completely forget to clean the mounted hardware in their bathroom (towel racks and hooks, mounted storage etc.). Using Boulder Clean's Disinfectant Spray or All-Purpose Cleaner wipe down any hooks and handles you see, also be sure to hit any fixtures you notice that you might have missed through the week, we're talking lights and switches, buttons and knobs.
Just Like That You're Done!
That rounds out of Week 2 of our 22-Day Spring Cleaning Routine! To really enjoy your freshly cleaned bathroom treat yourself to home-spa day—take a bubble bath, use your fluffy towels, put on a new face mask and relax!