Splash Around Sustainably!
Let's face it…everyone loves a hot pink flamingo floatie bobbing in the water of a refreshing pool on a hot summer day as much as the next person. But it's not so cute or fun when said floatie is sitting in a pile of trash alongside deflated pizza tubes and unicorns. To celebrate Plastic Free July on a more eco-friendly foot, we've compiled a list of more sustainable beach and pool accessories, from recycled timber umbrellas to reusable alternatives for poolside snack time!
Why Buy Sustainable Beach & Pool Toys?
Traditional beach and pool toys typically don't last long, as they're not built to last. They crack, chip, split, rip, and tear after being exposed to sun, saltwater, chlorine, and other elements—essentially rendering them useless. Most are made of cheap plastics that often contain harmful compounds such as BPAs and Phthalates. Sadly, many are not recyclable due to a material called polyvinyl chloride, otherwise known as PVC, a plastic that you've likely seen in pipes but can also be found in many of these flexible pool accessories. These chemicals have been proven to be harmful to human health.
The safer materials you want to look for instead are things like:
Food grade silicone
Natural rubber
Bamboo
Solid, unfinished wood (and/or wood that's been treated with beeswax or natural oils)
Mineral pigments
Plant-based colorants
Protect our Oceans
According to conservation.org, we dump 8 million metric tons of plastic into the oceans each year. This is equivalent to 57,000 blue whales. You may have heard this statistic, but by 2050, there will be more plastic in the ocean than fish. Much of this plastic will break down into what is known as micro-plastics. Animals will then ingest these tiny pieces of plastic, and if fish is part of your diet, you will then consume this plastic. We must not only choose items either made from natural materials or recycled plastics (rather than virgin plastics), but be aware of the packaging we bring to the beach and be sure to clean up after ourselves.
So what are the best environmentally-friendly beach and pool toys, non-toxic sand toys, and other green, sun-inspired accessories you can buy with the peace of mind that they are safe to use, and won't end up harming the planet after all that fun in the sun?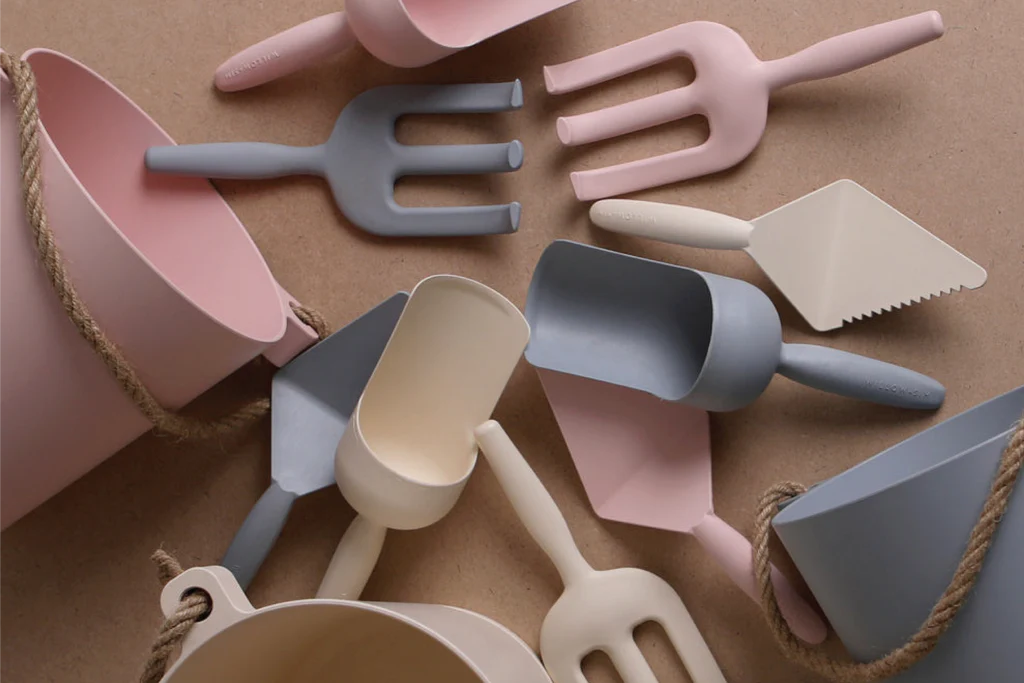 Beach and Pool Accessories Built to Last, AND Protect our Planet
Rubber Tube
A butyl rubber tube is wrapped in a removable cover topped with Sunbrella fabric. The protective fabric makes this tube's shelf-life exponentially longer than a traditional plastic tube. Instead of throwing away your old tubes, the company will recycle them for you, ensuring no tube ends up in a landfill.
Bamboo Beach Toys
Bamboo is an incredible alternative to plastic because it's strong and durable, yet biodegradable and natural! This set of beach toys is made from bamboo fiber and cornstarch that are just as sturdy and much more environmentally friendly than plastic alternatives. Willow + Sim's Bamboo Kids Beach Toys come in three colors.
Recycled Milk Jugs
Made in the USA, Green Toys is the original 100% recycled toy. This brand uses milk jugs and yogurt cups to produce beach toys (and more) that exceed safety standards. They've kept almost one hundred million milk jugs out of landfills with their eco-friendly mission. Green Toys also has a line of vehicles, boats and airplanes perfect for water and sand play, without the harmful environmental and health effects.
Wheat Straw Toy Boat
These gorgeous sustainable floating toy boats can be stacked or linked for endless fun! They are made from wheat straw composite, making them biodegradable and sustainable while being lightweight and water safe.
Land + Summer Umbrella
These sustainable umbrellas are made with recycled plastic bottle fabric called Repreve® that offers UPF 50+. The hanging tassels are 100% cotton, and the hardware is made from recycled plastic. They also come with a super-easy-to-assemble click-in pole mechanism, and it's rust-resistant. You can relax knowing you'll be nestled under the perfect, sustainable shade.
Sustainable Snack Time!
It's not a true Summer day outside in the sun without packing a cooler full of food and drinks! Instead of bringing plastic bags, grocery bags, plastic water bottles, and other standard single-use snacktime items, be sure to use reusable solutions that are better for you and the planet. We've compiled a few ways your snacktime in the sun can be as sustainable as your pool toys!
Reusable Cuttery
Single-use disposables are most often made of plastic or Styrofoam. Plastics can take thousands of years to break down. Styrofoam, on the other hand, will most likely be around forever. Both materials are sourced from fossil fuels and both materials are known to contain carcinogens harmful to human health. This is especially true when they are used for hot liquids and food or microwaved. Using reusable eating utensils can make a massive dent in your carbon footprint. In addition, it helps cut down on waste and natural resource consumption.
Wrap the Snacks
Yes, individually wrapped snack items are convenient, but they are not environmentally friendly and they contribute to the single-use plastic waste crisis. They tend to use more resources and create a lot of waste. Opt instead for buying larger packages and putting the items in your reusable containers. You may even save money!
Skip the Plastic Straw
Five hundred million plastic straws are used each day by people in the United States alone. As one of the most common types of single-use plastic, straws are one of the culprits of unnecessary plastic pollution. A reusable straw reduces your plastic waste output and prevents what would otherwise be another piece of toxic plastic from entering the environment. A stainless-steel straw, for example, is made to be used again and again. It is highly durable, and one straw can eliminate the need for hundreds of plastic ones. A simple wash after use will keep it clean, ensuring convenient use for years to come. Reusable straws are eco-friendly, don't pose a threat to marine life, and overall have a lesser economic, and environmental cost.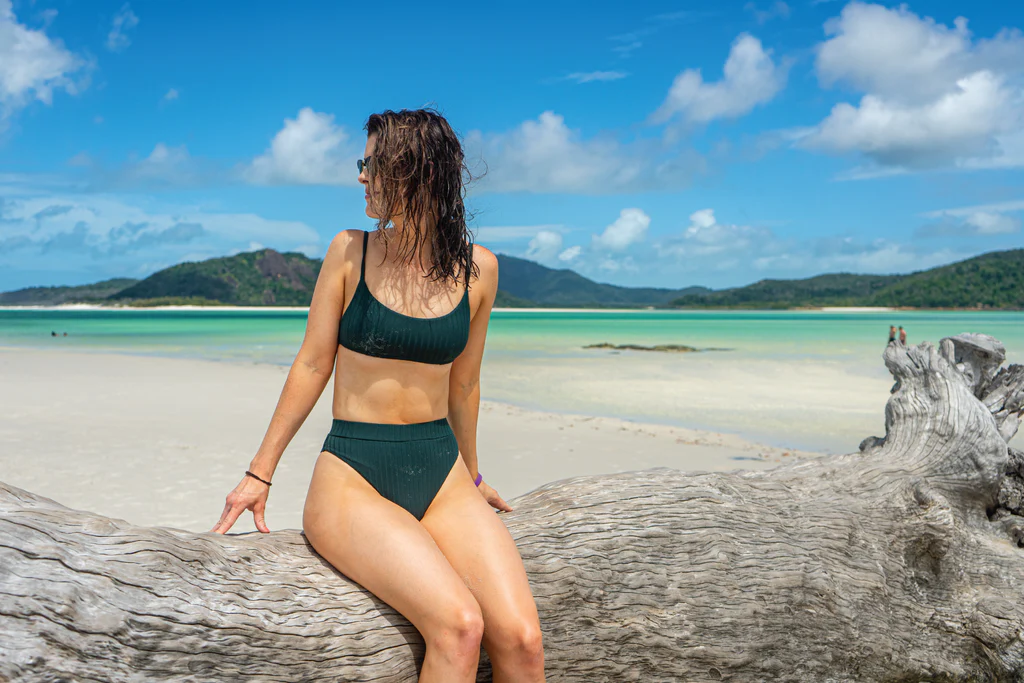 Eco-Friendly Bathing Suits
Conventional swimwear is made of virgin nylon and polyester. While many of the following eco swimwear brands still use nylon and polyester, these plastic fibers are recycled from trashed fishnets and plastic bottles, meaning they are not increasing demand for new plastic and are helping to give new life and value to what otherwise would just be trash.
Do Good Swim Wear
Do Good Swimwear has vibrantly hued eco-friendly swimsuits made from ECONYL®️ regenerated nylon sourced from recovered plastic & nylon ocean waste. A percentage of each purchase goes towards ocean conservation efforts, micro-finance for women & education for girls, as well as sustainable tree-planting projects.
Con Cariño
Con Cariño is the full sustainable package: fun designs, eco materials, durable construction, and ethical production. Their double-lined suits are crafted using a luxury and OEKO-TEX certified fabric made from recycled plastic bottles; the tropical-inspired designs are digitally printed to minimize ink and water waste; and the swimwear is handmade in Venezuela by the founder's family! They also give back to the Maniapure Foundation with every purchase.
Wolven
Each Wolven bathing suite is made from post-consumer recycled plastic in limited batches to reduce waste and the brand offers many reversible and multifunctional styles so you can maximize your use of their suits. As a member of 1% for the Planet, Wolven also donates a percentage of sales to environmental organizations.
Blue Buck
Finding the plastic pandemic upsetting? Try upcycling the Bluebuck way. Bluebuck's eco-friendly swimming trunks are certified SEAQUAL. That means they are made from upcycled marine waste. SEAQUAL is an organisation that collaborates with fishermen and small charities to clean up our oceans. Together, they work to remove the plastic waste littering our sea bed.
The non-biodegradable debris collected is a mixture of plastic bottles and plastic packaging. It is sorted, cleaned and recycled, before being transformed into a yarn.
Finally
Sure, it may take a little more planning ahead to make sure you've got your eco water toys and accessories prepared for your summer activities, but these sustainable alternatives will last much longer than one summer in the sand! Saving you time and money (and the planet) in the long term. Now that's something to make a splash about!