Decorate Your Way To A Cleaner Home
The Key to Low Maintenance Cleaning
Typically, we design and decorate our homes to fit our sense of style—and then those decor choices dictate our cleaning routines. We dust our open shelving weekly, and wipe down the marble countertop daily. But what if we reversed the process? What if our homes were designed to make cleaning them as easy as possible? The smallest design decisions can have a big impact on the way you live in your home — especially when it comes to keeping it clean! If your goal is a low-maintenance home that requires very little time spent cleaning, there are key decor choices to make.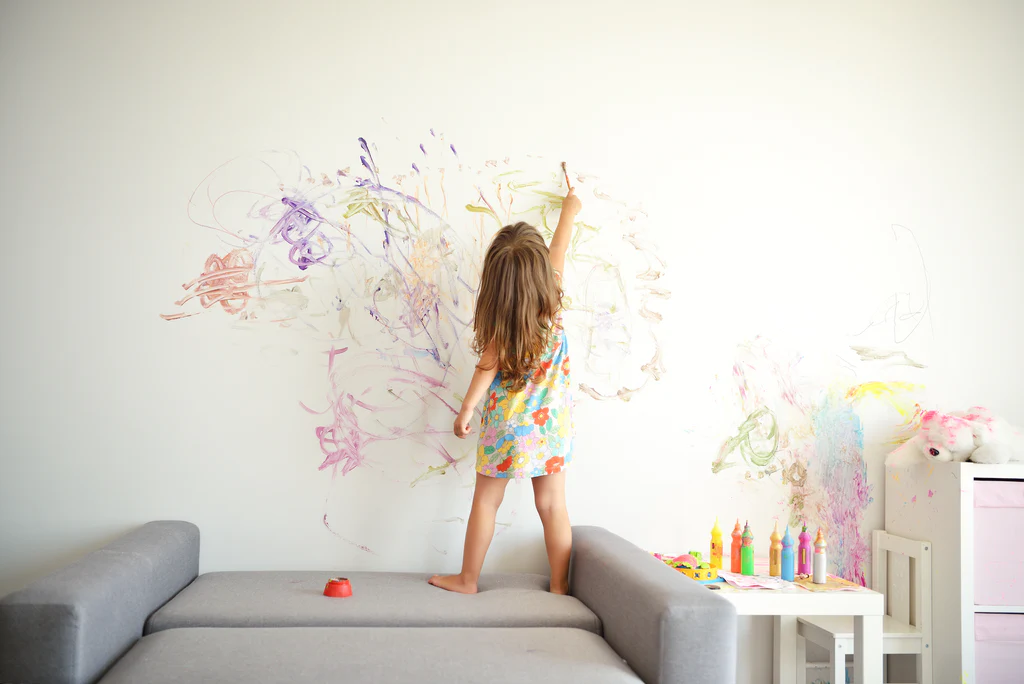 Wall and Paint Finish
Avoid matte paint finishes if you have young kids or messy pets who are likely to get errant crayon marks and smudgy fingerprints on the walls. Instead, opt for the smoothest, shiniest paint finish that will look good—typically eggshell for walls and semi-gloss for trim. On glossier surfaces, dirt and grime can be wiped away more easily.
Similarly, if you're considering wall paper, go with a vinyl wall covering, which can be wiped off with a sponge.
Floors
Select a hard-surface floor with as few seams as possible. Hard wood floors are a great option, but they can be vulnerable to spills. Stained concrete and vinyl floors are an excellent choice. They can be easily cleaned by sweeping or mopping and more resistant to dirt and spills—virtually nothing can penetrate to cause stains. If you want tile floors, use a dark grout. Or at least reduce the number of grout lines by using larger tiles.
Hard-surface flooring is easier to keep clean than carpet. Keep carpet for bedroom areas and other relaxed spaces where you're likely to be barefoot (and not spreading whatever can be found your shoes). If you must have carpet, consider using carpet tiles. If there's a spill, simply pull up that tile and clean it in the sink. If a tile becomes damaged, you can replace that single tile rather than having to replace all of the carpeting. Carpet tiles are perfect for kid's rooms and play areas.
Incorporate Indoor-Outdoor Rugs, especially when using light colors. They're easy to clean. Frequent vacuuming keeps dirt from embedding and they almost always wipe clean with a wet cloth, but can be deep cleaned with a hose! They're also very pet friendly!
Lighting
Go with recessed or pot lights. Light fixtures and chandeliers can quickly accumulate dust and cobwebs. Recessed lights do require a light dusting sometimes but they are much easier to maintain and look bright and modern, especially in the kitchen.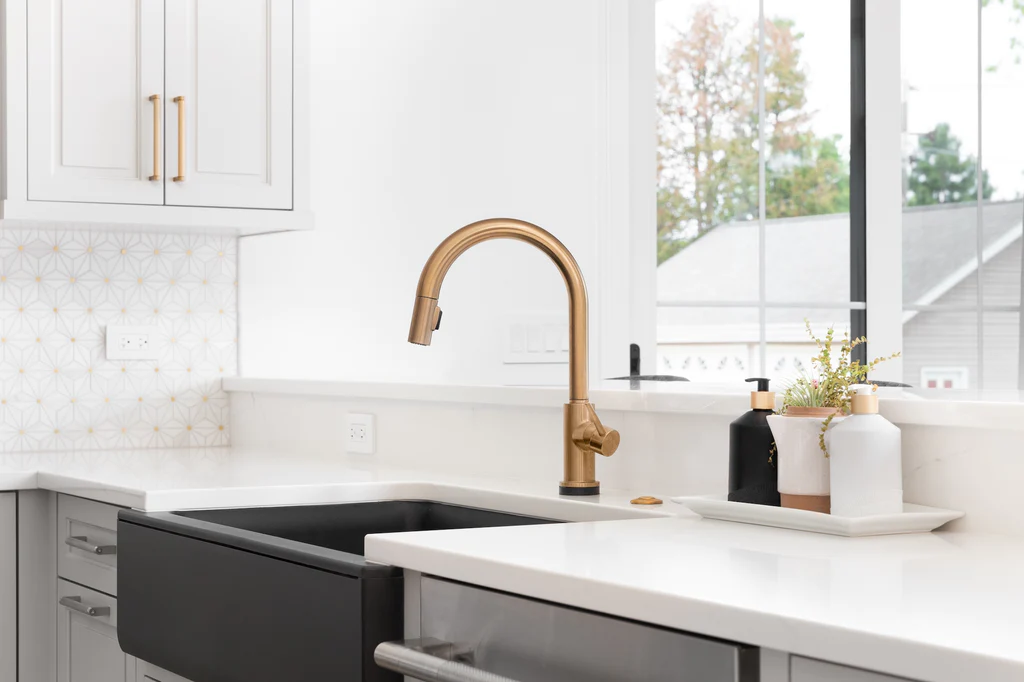 Kitchens
Cabinets
Choose slab-front cabinets. Not only do they look modern and streamlined, but they are much easier to keep clean than cabinets with intricate moulding with lots of crevices to collect dirt and dust. Make your cabinets stretch all the way to the ceiling if you can. If there's no room between the top of your cupboards and your ceiling, they'll be nowhere for dust to gather.
Countertops & Backsplash
Grout can be a chore to keep clean. Eliminate grout lines all together by replacing tile backsplash with stone slabs or full-sheet metal. For the same reason, avoid using tile for countertops. Instead, go with large slabs of quartz, Corian, laminate, granite, or concrete.
Sinks
An integrated or under-mount kitchen sink makes it easy to wipe messes from the counter right into the sink. There are no seams to collect gunk.
Appliances
Consider stainless steel alternatives. Stainless steel appliances look great but smudge and show finger prints easily. If you don't clean them up quickly, they look dirty pretty fast. Try covering your dishwasher and refrigerator with easy to wipe clean panels.
Bathrooms
Floors & Walls
As with the kitchen, fewer grout lines in the bathroom means less cleaning. Use large tiles for the floors and walls.
Toilets & Sinks
Wall-mounted toilets and sinks make it easier to clean all sides of the fixtures as well as mop under them. Choose a toilet that is either fastened to the wall the whole way from top to bottom, or leaves enough space to clean the circumference. And if you really like your loo to be spick and span, try finding one that has a removable seat. A wall-mounted faucet will allow water to drain down into the sink rather than that collect around the base of the faucet, resulting is less gunk build-up.
Showers
Replace an enclosed shower with a door-less shower. This will eliminate the need to clean glass doors or shower curtains.
Laundry Room
Locate your laundry room next to your bedrooms, on the same floor if possible, to make it less work to get the laundry to and from the washing machine, eliminating the need to carry heavy baskets of laundry up and down stairs. Another option is to install a laundry chute.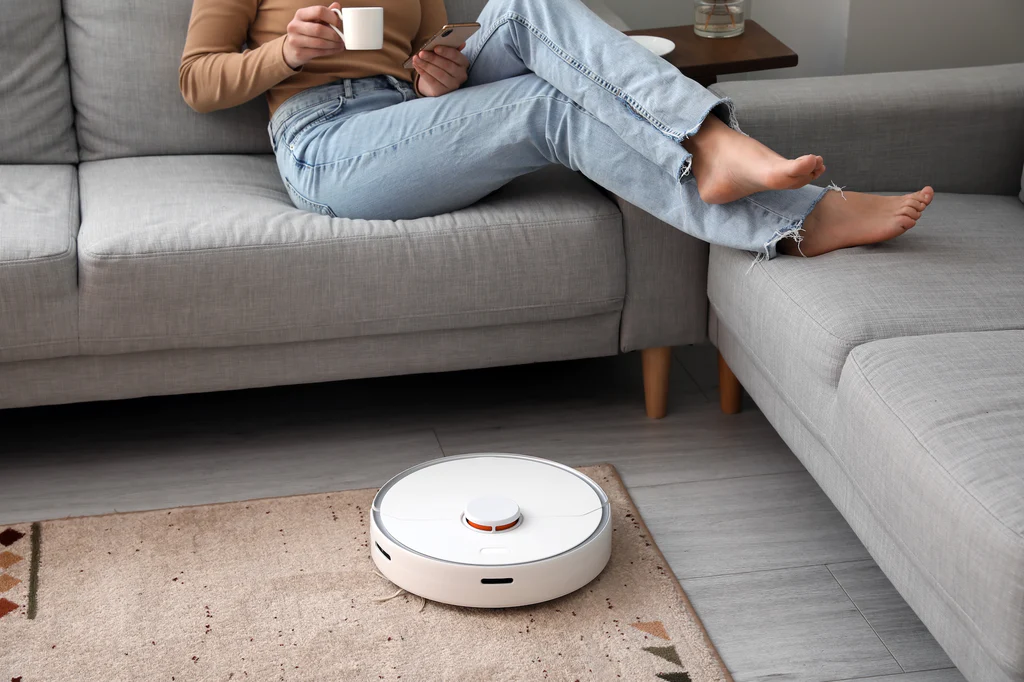 Furniture with Legs
When shopping for couches, credenzas, sofa and side tables (and really all types of furniture), look for those elevated on legs. Even better: cabinets that attach directly to the wall and suspended off the ground. This way, you'll be able to easily vacuum or sweep underneath them. For a hands-free cleaning routine, invest in a robotic vacuum that can do all the cleaning for you.
Sofa + Seating
You can't prevent spills from happening, but you can make life easier for yourself by choosing an easy-to-clean sofa. Upholstery makes all the difference when you're searching for an easy-clean sofa. Leather is easy to wipe clean—just be sure to sop up spills right away and condition it once per year. If you prefer fabric sofas, look for those with stain-repellant treatments or stain-resistant microfiber. Otherwise, choose a slipcovered sofa, so you can toss the cover in the washing machine whenever it needs a refresh. Darker colors will hide stains better, but it might not be the best option if you have a pet with white fur.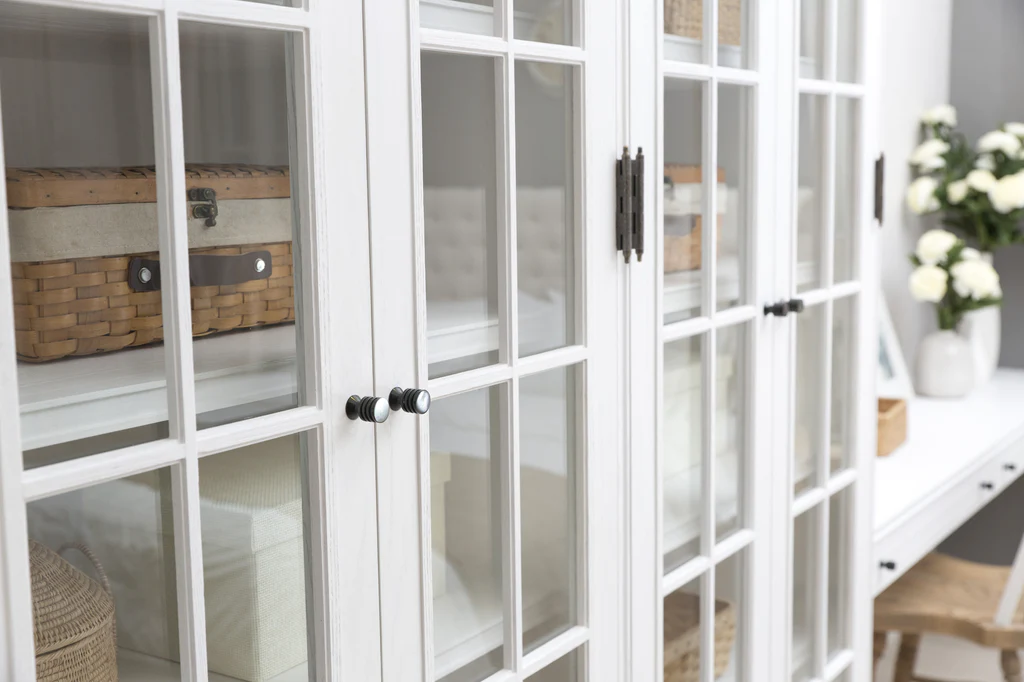 Shelving
Skip the floating and open Shelving. Elegantly styled shelfies look enviable on Instagram, but in reality, they require a lot of extra dusting. For a speedier cleaning routine, stick with glass front cabinets so you can show off your favorite items while keeping them dust-free.
Accessories
Cushions & Throw Pillows
We tend to go a little overboard with the throw pillows on sofas, chairs and our beds. For easier cleaning, consider cutting back on the number of throw cushions. Less can still add the burst of color or warmth you are looking for. Plus you can make the bed faster!
Wall Art
Although a gallery wall with frames displaying family pictures and artwork can look great, you can probably guess that we are going to say… that it's just more dusting to do! Instead, opt for a larger statement piece so there is just one frame to look after.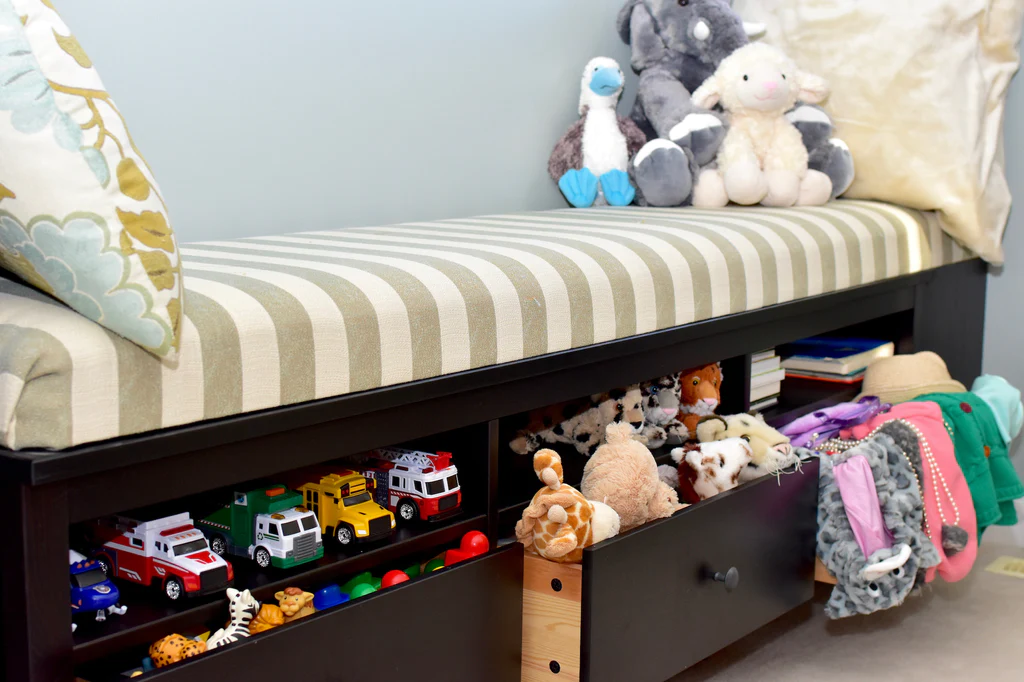 Storage and More Storage
Incorporate built-in storage where ever possible throughout the house. Having a place for everything will help keep clutter from building up on surface areas. Things can't be put away if there's nowhere to put them, so always be keeping a lookout for sneaky storage opportunities like bench seating with built-in storage underneath or bedheads with shelving.