Environmentally Friendly For The Holidays
The holidays produce a lot of trash—more than 1 million tons of additional stuff goes to the landfills each holiday season, according to Oceanic Global. But it doesn't have to be that way. With a few simple strategies, your holidays can be super-festive and fun—but also be eco-conscious at the same time. There are now sustainable alternatives to nearly every item you may typically buy during the holidays, so start swapping!
Green your holiday decor
Rethink your tree!
There's been a lot of debate about whether a real or artificial tree is more eco-friendly, but there are other options that can be even greener than those. Consider decorating one of your house plants instead. Potted Christmas trees can be replanted after the holidays and reused all year long and for years to come. Consider buying a potted tree with a root ball that is native to your area. In California, New York, and Oregon you can even rent a potted Christmas tree, and they will take care of it for you between seasons!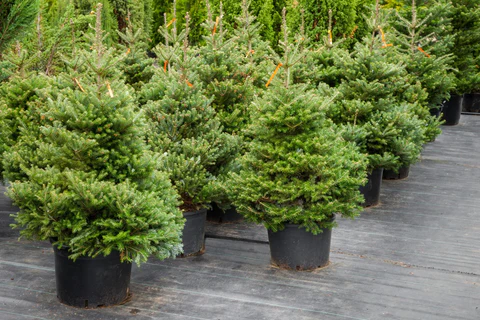 If getting a potted tree is not possible, reduce your carbon footprint by purchasing a locally grown cut tree, and making sure it gets mulched or otherwise recycled—rather than put into the landfill—when the holiday is over. Cut trees are a greener choice than artificial trees. Artificial trees can last many years if well cared for, which seems to make them a more sustainable choice, but they do have some significant drawbacks. For example, you would have to keep your plastic Christmas tree for at least 10 years for it to have the same carbon impact as using a real tree each year. Artificial trees cannot be recycled at the end of their life, so they must be landfilled or incinerated. In the landfill, the non-biodegradable materials don't really ever break down, while incineration causes plastics such as PVC to release dioxins and other carcinogens into the air.
Or you can get creative with tree alternatives–like a stylish stack of books or a branch of berries.
Use LED lights and smart electronics.
If your string lights have seen better days, now's the perfect time to upgrade to LEDs, which use a fraction of the electricity, last much longer, and often come with smart components that allow you to change up your lighting scheme with a tap on a smartphone. Use smart plugs or timers to set lights to go on and off automatically, so you don't accidentally leave them on when no one's enjoying them. According to the U.S. Department of Energy, if everyone replaced their conventional holiday light strings with LEDs, the energy cost savings would be $850 million each year, and 9.9 billion pounds of annual greenhouse gas emission would be prevented. The savings would be equivalent to the emissions from 940,000 vehicles!
Recycle your old holiday lights.
Each year big box stores offers a holiday light exchange programs or recycle them at your local scrap metal dealer.
Go light-free.
Candles, the starry night sky and reflective ornaments and menorahs provide electricity-free holiday cheer.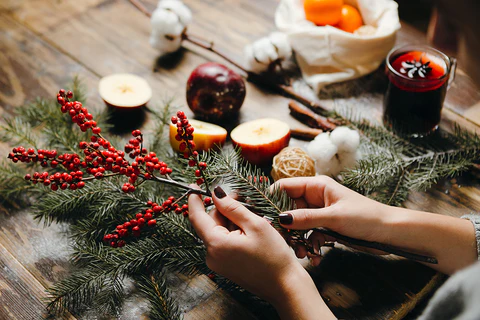 Forage for your decor.
Pine cones, pretty branches (evergreen or bare), dried flowers, berry branches, and fruit will look gorgeous and can be composted or eaten when the season's over.
Make your own ornaments.
Nature provides beautiful ornaments: gather a basket of evergreen branches, berries, flowers, fresh fruit, etc. and make ornaments. Make edible ornaments like seed bells, suet, and pinecones with peanut butter to hang around your yard and feed the local wildlife.
Skip the tinsel for the tree and avoid buying plastic decorations.
Aim for more eco-friendly entertaining
Clean using plant-based cleaners.
Prepare your home for house guests or holiday parties with eco-friendly cleaners. Don't use harmful chemicals during your clean up. There are dozens of options for natural cleaners that won't harm the environment and will keep your house sparkling all year long.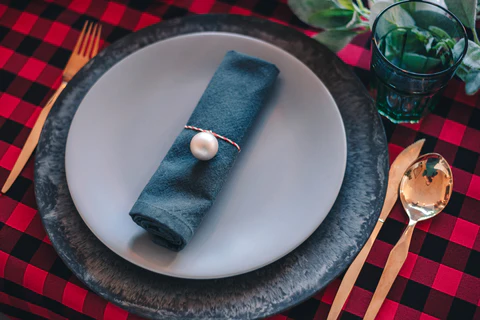 Invest in reusables.
If you throw parties on the regular, it might be wise to invest in dishes you can break out for every holiday. When a lot of people are over, many people find it easier to use paper plates and plastic ware. Unfortunately, this leads to a whole lot of waste. Use actual dishes instead. The first and most eco-friendly is always going to be investing in reusables—even if those include 100% recycled hard plastic cups that you reuse for events. It will make clean up more difficult, but it will be far more eco-friendly.
Be smart about disposables.
Minimize single-use plastic products like cups, plates, and utensils to be more environmentally friendly during the holidays. Compostable items may seem like a better option, but they may not be as green as you imagine. Stay away from industrial compostable cups—that means they need to be thrown away in a special bin for pickup, but this is not widely available for home waste management.
Light natural candles.
Candles are a great way to make your home smell amazing during the holidays. However, lots of candles use petroleum-based wax that's not great for the environment. Purchase candles made from natural soy or beeswax to scent your home.
Buy and serve locally grown food whenever possible.
A local, sustainably farmed roast or ham is much better for the environment than factory farm meat produced 1,000 miles away. Not only does local, organic food taste better, but you'll also be doing your part for your community and the planet too.
Eco-friendly alcohol options.
This is something most people do not think about, but purchasing organic wines and local microbrews will also have a positive impact on the environment and the local economy.
Cook multiple items in the same oven and run appliances on full loads.
This will help with electric bills.
Gift Giving
Give gifts that allow others to be more sustainable. Such as a cookbook for leftovers or items that are reusable and refillable. Check the labels: More companies create products with sustainability in mind nowadays—so you may be able to find great giftable items crafted from recycled or repurposed materials.
Get a gift they're guaranteed to love.
Encourage kids (or adults) on your shopping list to create a very specific wish list, whether the old-form written variety or using an online registry like MyRegistry. That'll help you ensure that your gift is a winner every single time—and avoid the hassles and waste of returns (or gifts that just create clutter until they're given or thrown away).
Give your loved ones experiences instead.
Avoid the wrong sizes, the returns, and the gift wrapping altogether when you gift experiences instead. Whether you take your nephew for a trip to the zoo, your mom to a fancy tea, or surprise your family with an epic vacation, you'll be giving priceless memories that they won't get from the latest electronics.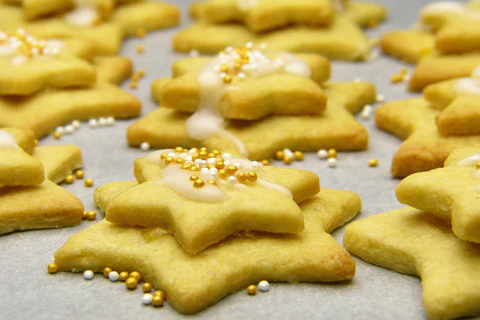 Make your own gifts.
Edible gifts such as breads, cookies, cakes, dried fruits, nut mixes, canned goods, jams/jellies, or herbed vinegars make fantastic gifts. Use your arts and crafts skills to knit a scarf, crochet a hat or mittens, paint a watercolor, or design your own jewelry.
Shop local.
Locally manufactured items do not have to be shipped across the country, thus reducing the amount of vehicle pollution needed in order to get them to you.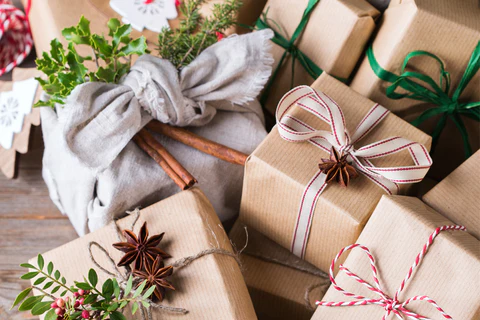 Gift Wrapping
We throw away an estimated 228,000 miles of wrapping paper per year—which is almost enough for us to wrap the moon once. Being creative with wrapping is a great way to minimize waste.
Sustainable Wrapping Paper
A common mistake many people make around the holidays is putting all their wrapping paper, tissue, ribbons, etc. into the recycling bin. Unfortunately, if your wrapping paper is metallic, has foil or glitter decorations on it, or has a texture to it, it is not recyclable. Including it in your recycling bin with other paper products could make an entire load unrecyclable.
Look for recyclable options, such as recycled brown kraft wrapping paper or eco-friendly recyclable wrap—or reuse old newspapers, magazines, or other paper around the house for a funky (yet still fun) wrap. And use only the amount of wrap that you need: loop string around gift boxes, then lay it out on paper to determine how much to cut for your gift wrap.
Ditch the wrapping paper completely. Hide unwrapped presents around the house and hold a holiday scavenger hunt for the kids to find them. What a fun, clever, low-waste idea!
Make the wrapping part of a gift. Gardening pots are easy to fill with gardening supplies. A mixing bowl or stockpot makes an excellent package for your favorite cook. A scarf (furoshiki-style) can wrap other clothing items. Sites like Living Ethos and Wrappr sell bags or pieces of cloth that can be reused every year for your gifts, or use scraps of fabric that are leftover from crafting projects. Save ribbons and paper gift bags to reuse the next year too.
Gift Bag Alternatives
Most tissue paper and gift bags aren't recyclable at all. Instead of using single-use items, make a reusable bag part of your gift, with a tote or pouch.
Send e-cards instead of holiday cards
That adorable family photo that required 100 takes will likely end up in a landfill somewhere. So perhaps send your well wishes and annual family newsletter digitally instead. If you can't say goodbye to the paper cards, look at sites like Paper Culture and Artifact Uprising that offer cards made on recycled paper—and skip the foil treatments so they can be recycled again.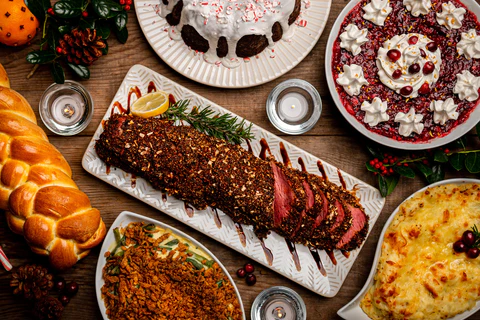 Food Waste
Composting
Food waste that winds up in landfills during the holidays is measurable. Plan your menu and exactly how much food you'll need to minimize food waste. Start your own compost pile to help divert food waste from landfills.
Give out leftovers.
Holiday parties always come with tons of leftovers—and you probably don't need an extra half a cake and five pounds of turkey. So offer guests a parting gift of goodies to enjoy the next day. You can save and recycle plastic takeout containers for just that purpose, or use mason jars or paper bags. Donate leftover food to local food banks. Compost food that is not donated.
Sustainable Holiday Traditions
Take a family nature hike. Bring a garbage bag to collect any litter you see along the way.
Plant a tree to symbolize the value of nature.
Bundle up and take a stroll to admire the holiday lights in your neighborhood.