Get Your Home Ready For Warmer Weather
The Ultimate Summer Home Maintenance Checklist
The winter chill is lifting, the days are getting longer, the sun is getting stronger and the pollen in the air has made it hard to breathe… yup it's official, summer is almost here! But before you can soak up the sun, there are a few important household chores to complete. With the change of seasons comes the exciting task getting your indoor and outdoor spaces ready for the months of warm weather ahead. Don't worry—we've whipped up a quick to-do list to make these easy as pie!
Clean Windows and Screens
Letting that extra sunshine come into your home through sparkling clean windows is bound to make you feel more accomplished and happier. Clean the window screens and while you're at it, inspect them for any damage. Now, tackle the window glass. Don't forget to check for cracked, broken or missing caulk seals around the outside of your windows and doors.
Change The Direction of Your Ceiling Fan
You may be surprised to find out your ceiling fan has two purposes: To warm the house and cool it. It has been distributing heat all through the winter season. But you need to change its direction to cool the house. Make it run in a counter-clockwise direction to change the air flow. There's a black switch that should help you change the direction. This helps to have a cool breeze.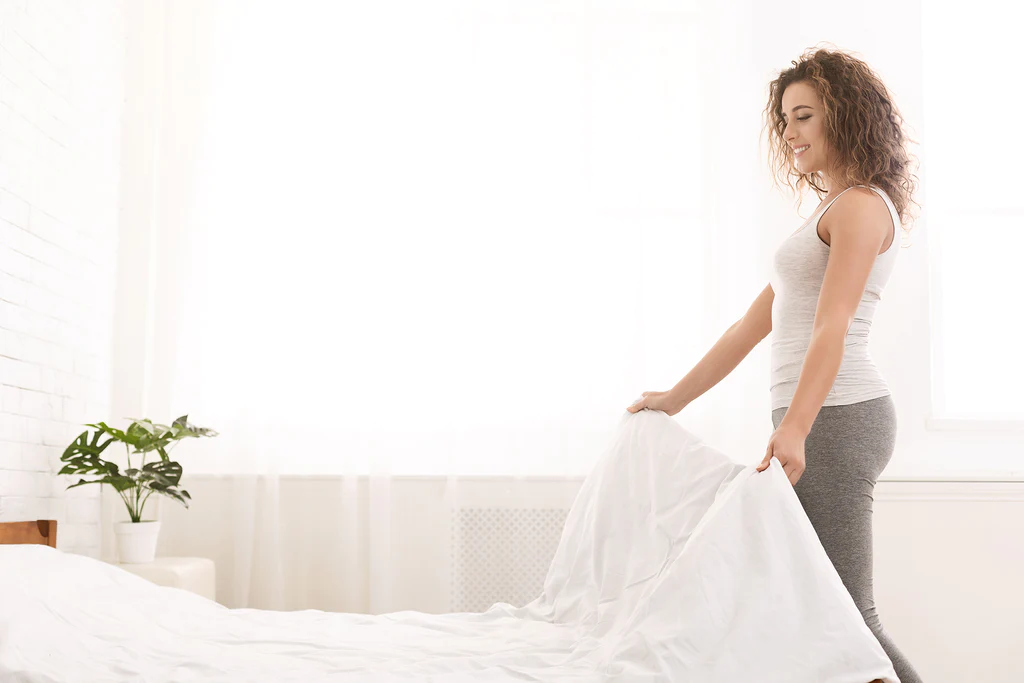 Replace the Bedding
Spring is in the air and it's time to pack away the flannel sheets, dark colors, and heavy blankets until next winter. Swap your down comforter for blankets and throws in a woven cotton or other similar-weight fabric. While these fabrics will keep you bundled as you sleep, they won't trap your body's heat
There are lots of quick fixes that don't require buying a whole new bedding set! A new duvet cover and pair of pillowcases, or even just a new throw, can transform the look and feel of your bed. Bringing in color with a light blanket, for example, can add energy and vibrancy, while switching to an all-white duvet cover and pillowcase set will be a palette cleanser that exudes serenity and calm. The goal is find something light and airy that not only keeps you cool, but also evokes the mood and spirit of the season.
Change Your Doormat
Your doormat has probably been a life saver all winter collecting dirt, snow, salt and other winter mess from your house guests' shoes. Now that a new season is upon us, it's time to replace your winter doormat with something a bit more summary: a bright pattern, colorful design, or playful typographic message can help change the aesthetic of your home and welcome Summer. You can even consider using two door mats, one outside and one inside, to keep dirt from entering your home altogether and make the cleaning process easier moving forward.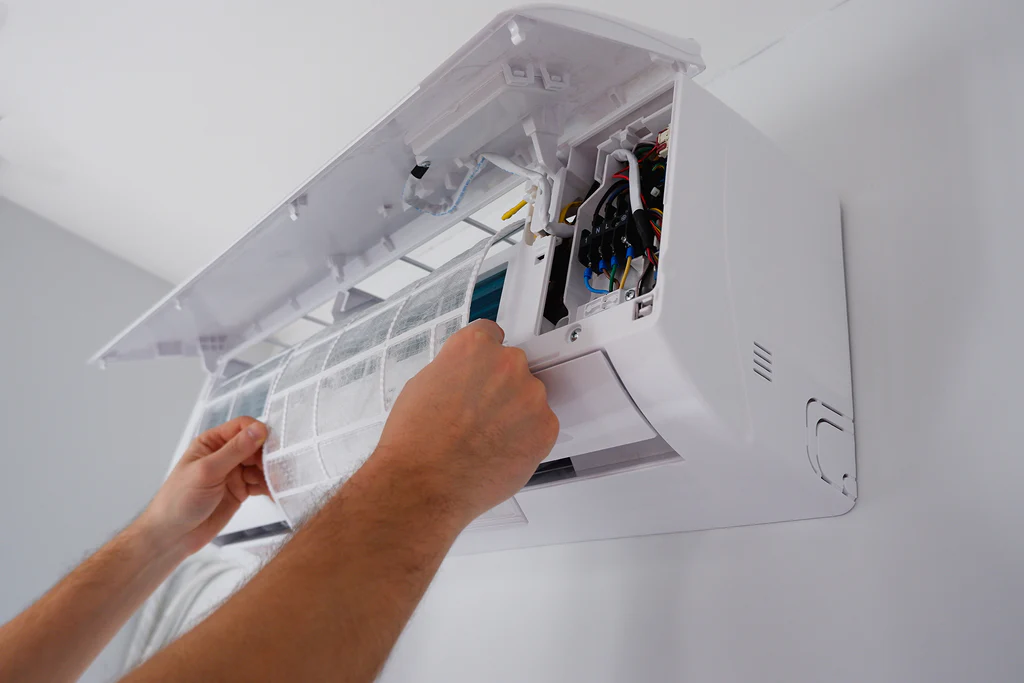 Service the HVAC
One of the most important ways to prepare your home for the warmer weather is annual air conditioner maintenance. Replacing furnace and HVAC filters is often an overlooked part of spring cleaning but will help keep you healthier as the warm weather sticks around. The filter is used to catch small, irritating particles that accumulate from the furnace and air conditioning units so they don't enter your space and pollute the air. You can also consider investing in an air purifier to help ensure your spring air is void of allergens, indoor chemicals or any odors that causes stuffy noses during this allergy season.
You can change the air filters effortlessly at home yourself but all other HVAC maintenance should be completed by a professionally trained technician. Your system will likely see an increase in usage as the temperatures climb, and you'll want to make sure there are no problems beforehand.
Get The Outdoor Gear Ready
Get everything ready for when it's time to host friends, or enjoy grilling burgers for the family on a nice warm evening. It's time to wipe the dust off your corn hole or ladder ball set. Inspect all playground equipment and play areas, and the patio or deck for winter wear and damage, including rust, new sharp edges, or exposed screws. Make any necessary repairs, and give them a good deep clean. Sweep decks and patios with a broom, then use a garden hose or a pressure washer to remove remaining dirt, dust and other material.
To make sure everything is good to go and working correctly prior to hosting, dust off your grill, set it up and give it a good, once-over inspection. Remove grates and scrub them with a wire brush to remove burnt-on particles and debris. Don't forget to check burners for clogs! Make sure all gas hoses and connections are secure, and restock the propane if necessary. Now that your outdoor living areas are cleared, cleaned and prepped, you can enjoy the best of spring and the warm weather.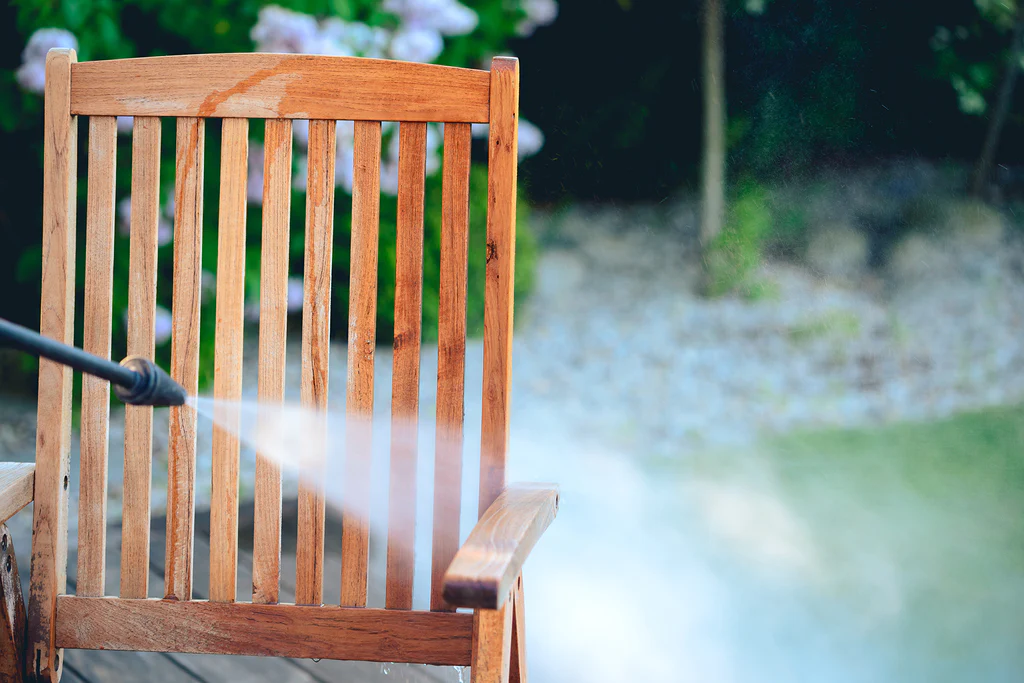 Wipe Down the Patio Furniture
Before bringing your patio furniture out of the garage or storage, wipe it all down to remove any dirt or dust. Make sure you clean the cushions and any outdoor rugs as well before you set up your outdoor patio area to enjoy the warmer weather. Hose or wash them off and set up an area for dining, relaxing, or entertaining.
Most outdoor fabrics are safe to throw in a warm wash. Air-dry, then put the cover back on the insert while it's still slightly damp to keep it smooth. If the fabric isn't removable, clean it using a soft scrub brush, dish detergent, and warm water. If your furniture is metal, look for rust. Sand and repaint with spray paint if needed.
Empty The Gutters
While you're assessing the outside of your home, check on your gutters and downspouts. Winter can be tough on them, and damage can lead to leaks that let water in your basement or crawl space, or cause wood rot around the gutters. Cleaning gutters can be a tough job, so consider hiring a pro, especially if your house is more than one story tall. If you're comfortable tackling it yourself, be safe and work with a partner. If you are doing it yourself be sure water from the downspouts flows away from your house to keep it from collecting around the foundation. As dirty as this job can be, it's one that can save a lot of headaches and bigger problems down the road.