How To Clean Outdoor Furniture
Getting Your Outdoor Furniture Summer-Ready
Summer is just around the corner, which means longer days and nights. The warm weather provides a perfect opportunity to get outside and start enjoying the outdoors again. Are you planning to throw the ultimate outdoor barbecue or pool party this summer? Ready to grill, entertain, or maybe even just have a relaxing space for yourself to sit back, relax, and take in the best of what summer has to offer? Cleaning outdoor patio furniture can sometimes present a bit of a challenge, since dirt has often had several months to accumulate, but we've made it easy for you. These simple steps can help you can get your patio, deck, or rooftop summertime-ready in a breeze:
What You'll Need
A bucket
Water
A sponge or soft cloth
A garden hose with spray nozzle
Make an Initial Inspection
Give your patio furniture a good inspection. This is an important step, especially if the furniture has been out all winter. Make sure it is still structurally solid by putting weight on it. Rust and corrosion can weaken furniture, especially when furniture is subjected to sitting out in winter weather! A quick inspection will help ensure accidents don't happen when you finally have your summer party guests over, and reduce the need (and cost) to replace furniture pieces. Sometimes all it takes is a quick check of the screws, nuts and bolts as these can loosen over time. Check the cushion covers for holes, and repair or replace as needed.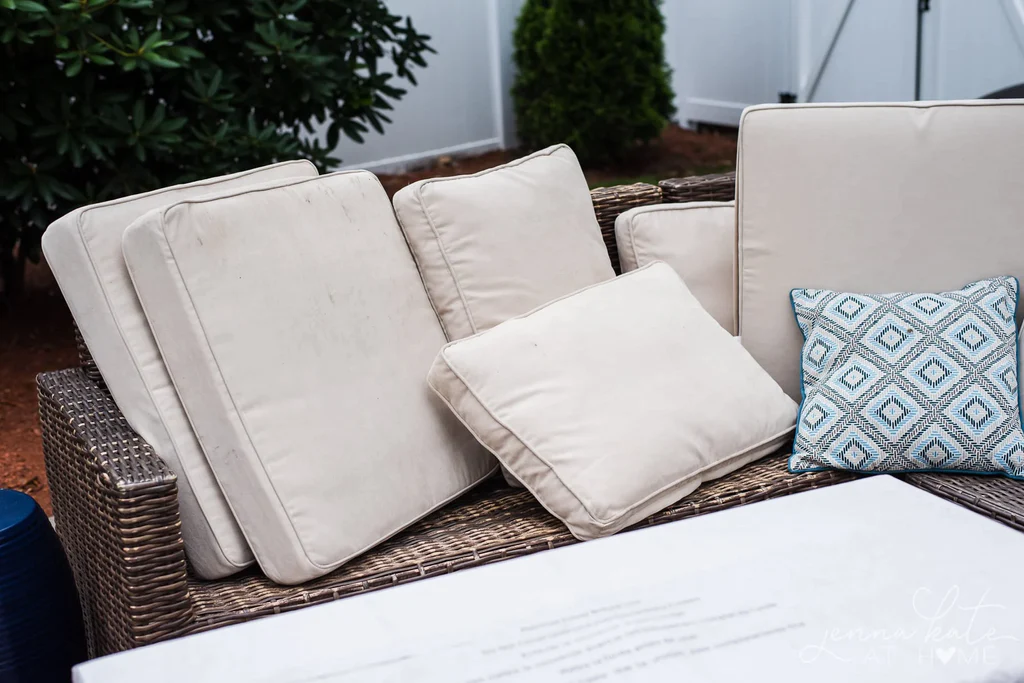 Wash the Fabrics!
Start the cleaning process by gathering your furniture cushions, decorative pillows, umbrella and any other outdoor fabric items. If possible, unzip the cushion covers and wash them by following the instructions on the tags. You can then use your vacuum cleaner with an upholstery attachment on the cushions. Use the vacuum cleaner to remove any loose dirt and dust. With tufted cushions, you should be careful to run the upholstery attachment along the crevices and seams as well as around any buttons.
Cleaning Methods for Different Types of Furniture
Plastic, Resin or All weather Wicker Furniture
Spray All Purpose Cleaner onto the soiled surfaces and scrub with a sponge or wet cloth until the stains are removed. Wipe surface down with a damp cloth to remove loosened dirt and excess cleaner. Rinse your furniture using the hose with spray nozzle and then leave it to air dry. Wipe away any water spots with a damp cloth.
Metal
Metal outdoor furniture is usually made out from aluminum, cast iron, or wrought iron. Cleaning your metal pieces every year will give the furniture a most-needed protection. The potential for rust makes metal furniture a more difficult material to clean. You will want to start your cleaning process by inspecting for rust. If there is rust present on your furniture, you can use sandpaper to remove it. You may also need to repaint the furniture after removing rust.
Check the paintwork for any chips or cracks. You don't want moisture getting in and compromising that protective coating. Feet are the spot many miss! We often drag/move out tables and especially the chairs across hard surfaces such as tile and stone.
If there are no rust or paint chips, a bucket of warm soapy water and a soft sponge is all you need to give it a good clean. Boulder Clean's dish soap has a powerful blend of detergents that are ideal for removing oil, grease and grime, so there should definitely be no problem gently removing the bird droppings and muck that builds up. It also leaves a streak/residue-free finish and is easy to rinse off. If your furniture is looking extra dirty, rinse off before washing, and then just give it a final rinse to remove the soap.
Once washed and dry, our next tip is to give your metal outdoor furniture a light coat of car wax. You can use the ones you spray on when wet and leave to dry, but our preference to use a tin of a paste style wax such as a carnauba. Any brand will do the same job. Just apply a very light coat with a microfibre cloth. It'll not only provide a little extra protection by allowing water to easily bead and run off, it'll also stop dirt from sticking to the surface and really bring back the luster to the paint.
Wood
The weight of wooden pieces, even just a garden chair, often prohibits storing them in a shed or garage during the winter months, so they can get a bit of battering over winter. If the furniture isn't looking too rough, then you might get away with just a light cleaning. When it comes to cleaning your outdoor wooden furniture, teak wood especially, the best way to remove dirt, moss and lichen is to use mild soapy water. Make sure to scrub in the direction of the wood grain.
This might also be a good time to sand down older furniture and cover it with a new coat of paint or possibly just give it a fresh coating of an acrylic or epoxy finish. This will not only help protect the paint, but it will seal the cracks and crevices that dirt gets down into.
Glass
Keep your glass patio tables sparkling with a few simple cleaning steps. First, remove any stuck-on debris with a glass-safe, nonabrasive material. Many scrub brushes will scratch glass, so opt for one designed to tackle tough cleanup jobs without marking your furniture.
After an initial cleaning, spray Glass Cleaner on the surface and wipe away with a microfiber cloth. Wipe down the underside of a glass table at least once a month to prevent hard-to-remove grime and stains. Clean the frames of glass tables according to their material type.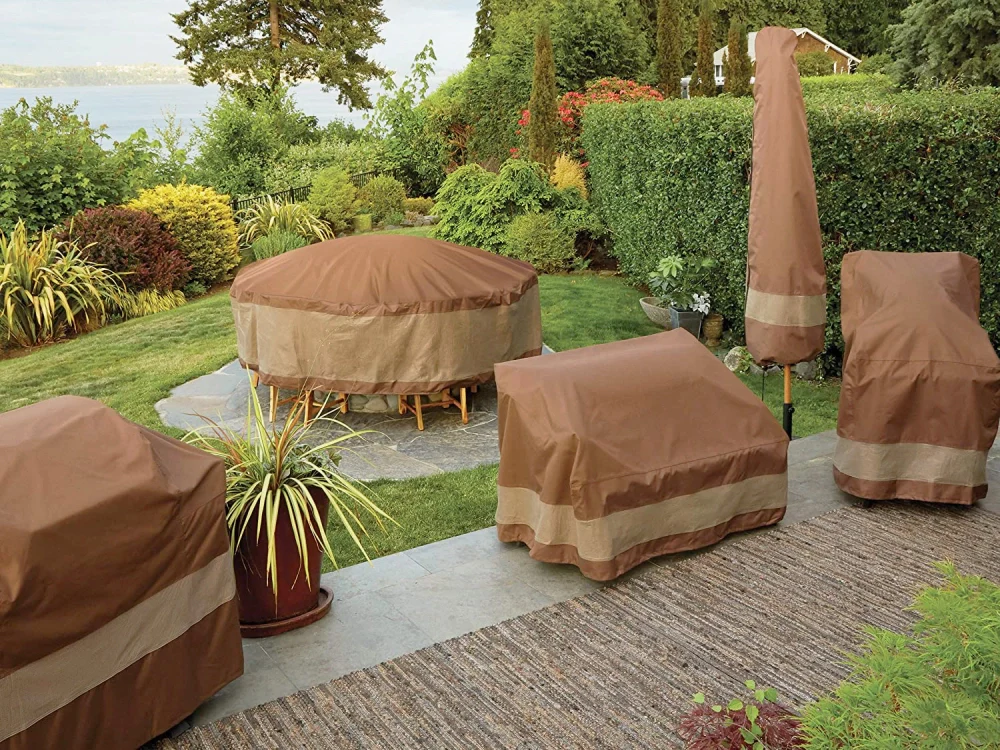 Make Your Furniture Last
Outdoor furniture is made to weather the elements, but eventually all that exposure can take its toll. When not in use, your furniture doesn't need to be exposed to the elements. All types of outdoor furniture benefit from sun protection.
Protective covers shield your outdoor furniture from the damaging UV rays, as well as precipitation in all forms. The covers should fit comfortably over each piece. Take measurements so they aren't too tight or loose. Be sure to avoid covers that seals the furniture underneath. This will expand the life of your furniture and lower the risk of any sun, wind or rain damage.