How To Clean Stainless Steel
Our kitchen is full of stainless steel products that we always want to remain clean for as long as possible. Stainless Steel is beautiful, but there is a downside: They're like magnets for fingerprints, smudges, water spots, and streaks. From the stove to the faucet to the fridge, these are in high-traffic areas and are used daily for breakfast, lunch and dinner.
Our journey to smudge-free, grease-free stainless steel all starts with our Granite and Stainless Steel Cleaner. Our Safer Choice 3-in-1 formula cleans, shines, and protects without a wax, silicon, or filmy residue. With soothing lavender and vanilla essential oils, cleaning will feel like spending the day at the spa.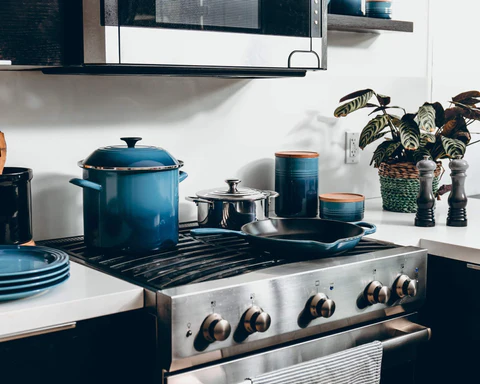 How To Clean Stainless Steel
1. Spray Surface with Cleaner
With your Granite and Stainless Steel Cleaner, spray 2-4x across your surface. We recommend 2-3 for smaller appliances and 4 for larger surfaces like your refrigerator door. Use your best judgement on the amount your appliance may need!
2. Wipe the Grime Off
With a neatly folded microfiber cloth, use medium pressure and wipe with the grain to remove any grime, dust or grossness that's been clinging to your appliances.
3. Follow the Pattern
Starting from the top, wipe with the grain using fast, straight-line, closely overlapping passes. Make sure you don't work too fast causing gaps between swipes. Slow and steady gets the shine!
4. Step Back and Admire
Time to step back and admire that brilliant shine! Relaxed by the Lavender Vanilla scent, both you and your kitchen are ready for whatever is next.
The takeaway: It's simple. Clean your stainless steel appliances once a month or whenever they're noticeably dirty. Finger prints can be removed by an easy wipe down while grease from the stove requires more of a scrub.
*TIP: Stay smart and always check the owner's manuals and manufacturers' websites for other cleaners to avoid.