Interviews With An Expert #12: Laundry Detergent Sheets
The Science Behind Laundry Detergent Sheets
So, how can we stay clean and reduce our environmental footprint at the same time? Well, one great way is to use laundry detergent sheets instead of liquid detergent. But how does this alternative to traditional detergent work? Let's dive in and learn together! Our expert chemist is here to give you the inside scoop and answer all your questions about laundry detergent sheets.
What is a Laundry Detergent Sheet?
It's traditional laundry soap held together in a thin-as-paper "sheet" of dissolvable, biodegradable resin.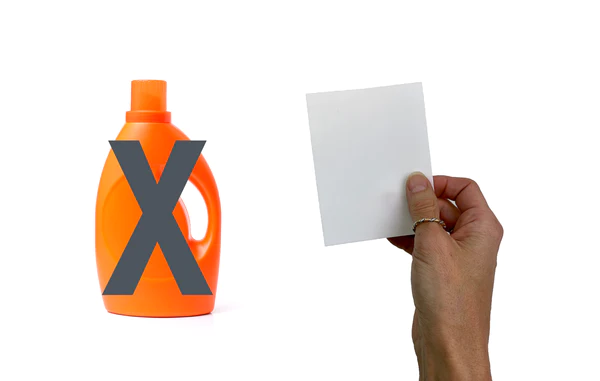 Detergent Sheets vs. Liquid Detergent
Laundry sheets are a minimal waste alternative to conventional liquid laundry detergents. Laundry detergent sheets get rid of the plastic and commonly-found harsh chemicals used in mainstream detergent all while keeping your clothes fresh and clean. Laundry sheets are already perfectly pre-measured, so your clothes will come clean without fussing over messy detergent measuring cups too. No Measuring. No Mess. No Plastic-Waste. Just Clean.
What are Laundry Sheets Made Of?
Laundry sheets are made of a mixture of at least a thickening agent (a colorless, water-soluble resin), detergent, water and polyvinyl alcohol. The thickening agent is comprised of polymers such as starch, modified starch, or cellulose that, when dried, produce a material that remains solid and flexible when dry, yet dissolves completely in water. The resin bonds all the ingredients into one completely dissolvable and powerful cleanser.
How are the Sheets Made?
The liquid ingredients are poured into a drying plate with the dried starch. The water evaporates, creating a detergent-laden sheet that closely resembles the dried starch itself: flexible, solid, and water soluble. In a washing machine, the dissolving action releases all of the active properties from the resin.
Do Laundry Detergent Sheets Work?
Yes, laundry detergent sheets really work! While the idea of a detergent in a sheet may seem strange, they are just as effective as a powder or liquid detergent. Laundry sheets are the most convenient, eco-friendly, hassle free way to your laundry. It's the same powerful clean in a much smaller package.
How do the Laundry Sheets Transform into Detergent?
As the water in the machine makes contact with the sheet, it dissolves, and the water essentially becomes the detergent. All the ingredients will work together with one another to ensure that the clothes will get cleaned, regardless of the properties of the water being used.
Do Laundry Detergent Sheets Remove Stains?
Yes! Liquid detergent has traditionally and most commonly been to fight stains due to the instant reactivity of their ingredients. However, our laundry detergent sheets contain stain fighting ingredients, just as other formats do. Removing stains with our laundry sheets is just as effective as using traditional liquid detergent! As soon as the sheets are exposed to water they begin to dissolve, activating the stain and dirt removing agents.
What Makes the Laundry Sheets Dissolve in Water?
All of the ingredients are water soluble, including the "sheet" part. Every ingredient is chosen so that they have excellent water solubility, regardless of the temperature of the water, or if it's hard vs soft water.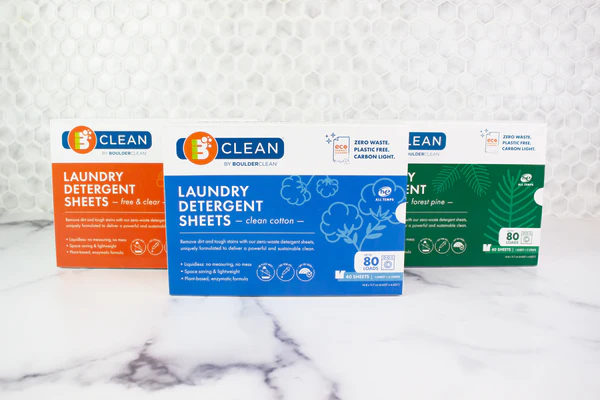 Are the Ingredients Safe?
Laundry detergent sheets will leave your laundry crisp, fresh, and stain-free without washing harmful chemicals down the drain. Our Laundry Sheets are safe for both humans and the environment, thanks to their smart formulation. They're paraben-free, phosphate-free, and chlorine bleach-free. There are also no added dyes and are free of 1,4-dioxane. They are vegan friendly and are gentle enough for even the most sensitive skin.
What about the Fragrances? Are they Safe?
Plain and simple: Yes. All of our fragrances are IFRA certified, which means that all the ingredients used in making the fragrances are safe to use, and they are sourced with environmental consciousness in mind. Our scented sheets are free of phthalates, however, we also offer an unscented option for those striving for a fragrance-free lifestyle.
Do Laundry Sheets Ever Expire or Lose Potency?
Our formulas are preservative-free because all of the ingredients are dehydrated. The scented laundry sheets could slightly loose their fragrance over time, but the cleaning performance will still remain the same. By using specific powerful cleaning enzymes our laundry sheets' potency is the best on the market. And we have the independent third-party testing to prove it!
Are Detergent Sheets Better for the Environment?
Laundry detergent sheets are better for the environment because they reduce the number of plastic jugs in landfills and contain less toxic ingredients. Because detergent sheets are lighter weight, transport pollution can be reduced by 94%. Additionally, these sheets come in a cardboard box that can be recycled.
Looking for More Interviews with an Expert?
Interview #1: Breaking Down the Scary Sounding Ingredients
Interview #2: Understanding the Disinfecting Line
Interview #3: A Closer Look at Our Laundry Detergents
Interview #4: Our Plant-Based Fragrances & Dyes
Interview #5: Why Are We Plant-Based?
Interview #6: What's Up With Cleaning Tablets?
Interview #7: How Power Sport Laundry Tackles Your Toughest Odors
Interview #8: Learn All About Our Refill Cleaning System 
Interview #9: 2021 Unwrapped 
Interview #10: Orange Oil & Cleaning – A Powerful Combination
Interview #11: The Psychology And Science Behind Spring Cleaning