Make Your Bed Like A Luxury Hotel
This Hotel Bed-Making Secret Will Transform Your Room Into A Chic Escape
If you've ever stayed at a hotel and thought to yourself, "Why does this bed look so much fluffier and more luxurious than mine does at home?" you're not the only one.
The bright white, crisp sheets and down pillows definitely help, but there's also a tried-and-true bed-making secret that's the main benefactor behind the added fluff: two duvets. You'll notice that your bed instantly looks more inviting as the two duvets give it a cloud-like volume. Adding two comforters not only makes your bed look better, but it'll also make it feel better (say hello to super cozy).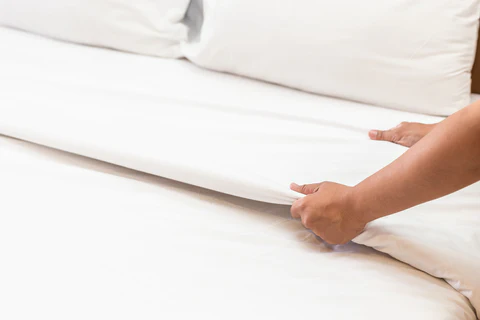 Step-By-Step
TikToker @the_avantgarde_ made a video with easy step-by-step instructions on how to make your bed look just as cozy as one at a hotel. Here's how:
Smooth out the bottom and top sheets.
Then, fold the top sheet over.
Place one duvet on top of another, and fold them both over twice.
If you have a king-size bed, @the_avantgarde_ suggests using four king-size pillows and two rectangular ones to add some volume.
Your work here is done!
Hospital Corners
If you really want to make your bed look exceptionally put-together, try doing hospital corners (also known as military corners). Hospital corners are a tried and tested way to get a tidy, crisp-looking bed every time. This involves tucking a fitted sheet under the bottom of the mattress in a way that'll keep it secured and wrinkle-free. (This tutorial is super helpful!)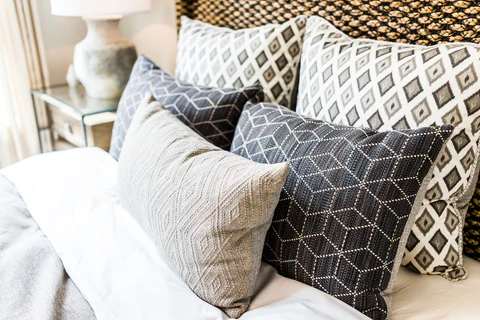 Finish With Decorative Pillows
These are the "frosting" on your bed. Decorating your newly made bed with accent pillows is a fine art. It's easy to go overboard, but you want to have enough pillows to make your bed look considered and feel luxurious. Experts recommend starting off with a pair of pillow shams before putting your actual sleeping pillows in front. From there, you can layer with more decorative pillows to create depth. Just remember to have an odd number of pillows, as this is more interesting to the eye.
One Basic Rule: when placed in their 'show' position, sleeping pillows and decorative pillows shouldn't take up more than a quarter of the total bed length. More than that looks overstyled.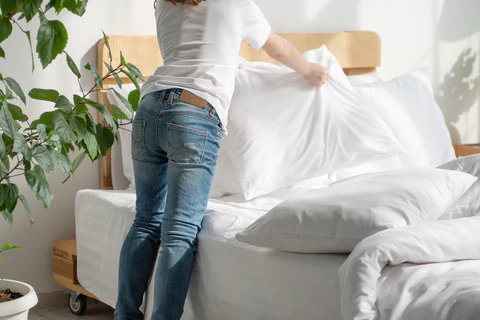 Make Your Bed Everyday
While some of us are guilty of not making our beds everyday, it's a great habit to get into and soon becomes second-nature. And getting into productive habits like making your bed can actually make you more productive in other areas of your life. Plus, there's nothing better than getting into a freshly made bed at the end of a long day. Making your bed doesn't have to be difficult or time-consuming, so next time you get out of bed and feel the urge to throw back the covers and leave them in a messy heap, try some of these easy hacks for making your bed instead.