Disinfectant Cleaner
$32.99
Made with plant-derived thymol, our disinfecting surface cleaner is essential for household cleaning. Clean fast, and get on with life—formulated to clean, disinfect and deodorize in a simple one-step process! You can feel good about using this everywhere – even around toys and pets. Providing a powerful clean with an herbal lemon scent, it eliminates 99.9% of household germs (including the viruses* that cause the common cold and flu, and COVID-19) and removes 99% of non-living allergens that cause sneezing, coughing and runny nose. 
STOP THE QUAT®
The difference is on the label: No harsh chemicals. Does not contain Quaternary Amines (Quats)… nor parabens, phthalates, phosphates, bleach, triclosan, known or suspected endocrine disruptors, dyes, or synthetic fragrance.
Works Great On...
+ Countertops
+ Tables
+ Cabinets
+ Appliances
+ Doorknobs
+ Fixtures
+ Car keys
+ Garbage cans
+ Baby care surfaces
+ Computers
+ Smart phones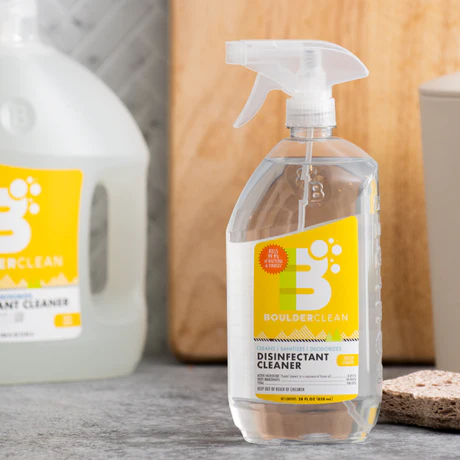 How To Use
Product is ready to use. DO NOT DILUTE. Visible soil must be removed before applying cleaning solution.
Suitable for use on hard, non-porous surfaces including stainless steel, chrome, metal, mirrors, glass, glazed porcelain, plastic, vinyl, glazed tile and sealed granite. Do not use on unpainted wood or brass.
Rinse all food contact surfaces with potable water after treatment.
TO DISINFECT: Apply to hard, nonporous surfaces with a sprayer, cloth, mop or brush. Wet all surfaces thoroughly. The surface must remain visibly wet for 10 minutes. Wipe or let air dry.
—
TO CLEAN: For general surface cleaning, spray, scrub as needed, and wipe clean. For tougher stains, spray and let sit for 1 minute before scrubbing and wiping. Spot check to test for compatibility.
—
TO SANITIZE: Preclean. Just spray hard, non-porous surface, leave for 1 minute, then wipe or let air dry.
—
TO DEODORIZE: Effectively controls odors by killing odor-causing bacteria while simultaneously chemically neutralizing their odors and leaving a pleasant fragrance. Apply to surfaces as needed. Spray surface and wipe clean.
—
FOR MORE DETAILED INSTRUCTIONS, PEEL THE BACK LABEL AND REVIEW.
—
*Effective against: Covid-19 Virus and Human Immunodeficiency Virus type 1 (HIV-1) in 60 seconds; Influenza A Virus (flu virus), Respiratory Syncytial Virus (cold virus), Feline Calicivirus (Norovirus), Hepatitis C Virus, Human Rotavirus, Vancomycin Resistant Enterococcus faecalis and Staphylococcus aureus – MRSA in 5 minutes; Influenza A Virus H1N1 (swine flu), Human Adenovirus 5, Herpes Simplex Virus Type 2, Vaccinia Virus, Salmonella enterica, Pseudomonas aeruginosa, Staphylococcus aureus (S. aureus), and Methicillin resistant Staphylococcus epidermidis (MRSE) in 10 minutes.
—
Our Disinfecting Spray and COVID-19
Worry free disinfecting against SARS-CoV-2. Tested and proven effective against the COVID-19 virus in 60 seconds on hard nonporous surfaces. Refer to the U.S. Centers of Disease Control and Prevention (CDC) website for additional information.
INGREDIENTS
Water, Thymol, Citric Acid, Pelargonic Acid, TEA-Lauryl Sulfate, Ammonium C6-10-alkyl Polyoxyethylene Sulfate, Hexylene Glycol, Isopropanol, Lemon Fragrance.
OUR THYMOL: Active Thymol is a key component of various herbs and has been used for its medicinal and strong antiseptic properties for thousands of years. As the active ingredient in our disinfecting spray, Thymol is an EPA-approved and effective antibacterial, anti-viral, anti-fungal, and anti-mold agent. The EPA classifies Thymol (at the level used in our products) to have a low toxicity rating and it is not aware of any adverse effects to humans or the environment when used as directed on the packaging label.
Ingredients - How They Work
+
INGREDIENT
WHAT IT IS/HOW IT WORKS
CAS NUMBER
INGREDIENT
Water
WHAT IT IS/HOW IT WORKS
Solvent
CAS NUMBER
7732-18-5
INGREDIENT
Thymol
WHAT IT IS/HOW IT WORKS
Active Ingredient
CAS NUMBER
89-83-8
INGREDIENT
Citric Acid
WHAT IT IS/HOW IT WORKS
Buffer
CAS NUMBER
77-92-9
INGREDIENT
Pelargonic Acid
WHAT IT IS/HOW IT WORKS
Acidifier
CAS NUMBER
112-05-0
INGREDIENT
TEA-Lauryl Sulfate
WHAT IT IS/HOW IT WORKS
Surfactant
CAS NUMBER
139-96-8
INGREDIENT
Ammonium C6-10-alkyl Polyoxyethylene Sulfate
WHAT IT IS/HOW IT WORKS
Surfactant
CAS NUMBER
68037-05-8
INGREDIENT
Hexylene Glycol
WHAT IT IS/HOW IT WORKS
Solvent
CAS NUMBER
107-41-5
INGREDIENT
Isopropyl Alcohol
WHAT IT IS/HOW IT WORKS
Solvent
CAS NUMBER
67-63-0
INGREDIENT
Lemon Fragrance
WHAT IT IS/HOW IT WORKS
Fragrance meeting IFRA standards; see IFRAorg.org
CAS NUMBER
Proprietary
Boulder Clean Disinfectant Cleaner SDS. Ingredients may include those found at http://www.ifraorg.org.
disinfectant cleaner
I thought I liked the product and service
Love how it works
I love how well this product cleans and smells good. My husband will ask what I am fixing when I use it. He thinks I am cooking with herbs.
Good Stuff
My wife is happiest when using this product because of the natural ingredients. A happy wife is a good thing.
retired government worker
I like the boulder cleaner it was awesome.
Best smell
I love this product, and the smell is different but very pleasant, would not want any part of it to change. It really cleans and disinfect all rooms of my house.

I love how it cleans
I love how well it cleans and disinfects surfaces. The only thing I'm not loving is the smell. Could you please make this with no fragrance at all?! That would be the best, to have cleaners with absolutely no smell at all!
This stuff is grear
Don't love the smell personally, but I do love how well it works and the smell doesn't linger too long.

Strong smell
This definitely kills everything however need to be cautious with use only due to the smell. The thymol ia very strong smelling
The best!
Love the Thyme fragrance, plant based and works great!
Awesome
This is an awesome cleaner. It has such a clean, fresh smell, unlike other harsh cleaners
nice functional refill
I use disinfectant cleaner in a 28-oz spray bottle to clean the kitchen daily. It is clean, smells good, and leaves no residue. Our local store carries only spray bottles. This 1-gallon bottle is very economical and environmentally friendly for the refill purpose.
Great solution for me.
It's safe for kids & pets. Lots to clean !!!
Super cleaning strength!
I am very pleased with my Boulder Clean Disinfectant Cleaner. Powerful cleaning for both kitchen and bath.
great product!
made with thymol which is from the herb thyme that has been used for cleaning and as an anti-parasitic for many years. always loved the smell of thyme,sort of remind me of my favorite pizza place.
Great
I bought this w/ 16oz glass bottle. Works great. Can you apply for this ti be safer choice?
Love this product
Cleans well, no residue and not perfumed! I'm not allergic to it.
Great stuff
It works good and its kid safe
Works great
Great scent
This is by far the best cleaner I wave ever used!
FANTASTIC! THE BEST EVER! 👌
Not at First
I was initially put off by the smell, but I have to admit that after using this product for some time now, I actually look forward to the smell. It cleans great, and saves me a lot of scrubbing. My main uses are my glass cook top and granite counter tops.
Boulder Clean does the job
I like it, I use it and will continue using it.
Very good. We both like and trust the product.
We like that it is naturally based and appreciate the scent not smelling like a chemical factory or bleach.

Caught off guard by scent
We love Boulder Clean products. We decided to give the Disinfectant Cleaner (lemon scent) a try. The issue with the product is the scent. It's not that the scent was unpleasant, it was simply unexpected. Since we are very big fans of the citrus scented detergent, we were expecting a light lemon citrus scent. We could not detect any citrus. After reading through the product description and comments we learned about thymol. Since thymol is such a strong fragrance, we feel it needs a better partner fragrance to complement its herbi-ness. Perhaps Mint would pair better with thymol. One star deducted for scent confusion.
This is my all time favorite!
I use this everyday as a final wipe down in my kitchen. I even spray my cleaning sponge and leave it overnight. No odors left the next day. I love that it is also pet friendly as I'm always cleaning up after them. Other products are out there but this one I feel really does the job!
Very surprised how well it works
I bought this product from Sam's frankly because it was the only cleaner they had. I'm in love with this cleaner! I had to get used to the scent (I have problems with many scents) but I ended up liking the scent. I won't go back to my old bad for the earth cleaner. I'm so happy I looked at the website because I'll be buying more of their products.

A good cleaner for the office
I like the fact that it is all natural without harsh chemicals. My office uses an historic dental chair to examine my patients. For COVID, I needed something to sanitize the surfaces of the chair (hand rails, vinyl back and seat pads) without destroying these now somewhat delicate surfaces. This cleaner does the trick. It also easily spot cleans floor dirt.
What I don't really like is the smell. They say it has a lemon scent. Sorry, but this is *not* a lemon scent. The cleaner contained thyme oil, and that's the smell I get, not lemon. The smell is a bit pungent for my taste.

So Far So Good
Today is the first time I used this stuff. I don't like the smell, but I do understand it is because it is related to thyme. I'm not 100% sure it actually kills germs, but I decided to try it on my rat cages, since it is supposed to be safe (I rinse everything well, regardless, just in case) so I sprayed everything down with this and then sprayed off with water or wiped off with paper towel. I did notice it really cleaned well and made the ladders look really good again and seemed to work well. So far I like it.
Wonderful cleaner!
I wanted to change how I felt about the smell of this product. I do love it, because I know that the smell comes from thymol, which is a strong contender for the reason this cleaner works so well.
Wonderful cleaner!
I have a conure who poops on everything I love & your cleaner is the only cleaner I have ever used that gets those things completely clean. It works quickly & thoroughly cleans with no residue. I love Boulder Clean!

Confused
I bought this 2020 and have been using since , love the smell! except now the new ones I buy are milky white vs almost clear?
Was there a formula change?
Best sanitizer with reasonable price
My husband and I have various health issues and like to keep items we use, such as shower loofas. We are impressed with your cleaner and look forward to ordering other items from your company. Thank you.

Fresh Lemon? More like Oregano
Does the job cleaning wise very good getting hard residue off, but smells nothing like fresh lemon not even a artificial lemon a lemon candy just nothing lemony about the scent. It smells more like fresh oregano. Which is a turn off while cleaning especially when your expecting some sort of lemon some sort of citrus enjoyable smell. Change the scent name it's a lie.
Great product
Thankful to have found your product

Great
Love the spray.. nozzles were broken when arrived ,but was quickly fixed by company
Great Product for all surfaces
Great product that works on all our kitchen and bathroom surfaces.
Great product/purchase
I love the effectiveness while also being a natural product. Super nice, clean scent and so cool that it's a local product for me to purchase. I also like that can order straight from their website with the option of subscription, so I don't ever run out.
Boulder disinfectant cleaner
I pick this up at Walmart. Thought I would give something new a try. This is the best stuff ever!!!!
Works great on everything that I have used it on!!!
Only problem is it's hard to find in my area!!! Definitely will buy again!!!
Amazing!
My grocery store was out of all disinfectants due to the Corona-Virus. I saw it was all natural and thought I'd give it a try. WOW! I don't use anything but this to clean pretty much everything. I clean bathroom floors (linoleum), sink and toilet (outside). I clean our kitchen laminate floor, the stainless steel fridge, our kitchen table, microwave and toaster. The best part is they actually LOOK shiny and clean! Great product! My only drawback might be that it doesn't smell lemony….it's a different kind of smell. But, it doesn't smell bad, only different.
Good for everything
Bought it at our local Aldi and couldn't be happier. I use it for just about our entire kitchen. I now use all the Boulder Clean products to clean our house. They smell great and are a great non-toxic cleaner for our family. Highly recommend.
Unintended consequences
First off, I love this stuff! Cleans and disinfects with no residue, and is nontoxic. I love the scent, and, funny thing, my cat does too. He's obsessed with it! Kind of defeats the purpose of disinfecting when right after cleaning my countertops, my kitty is sniffing and rolling around all over where I just cleaned! He languished in the scent for a good 10 minutes! Curious as a cat, I looked up Thymol, the active ingredient – which is basically thyme oil. Who knew? Cats love thyme as much as catnip!
My vinyl fences shined!
I use the spray in my kitchen and bathrooms. My vinyl fence around my front yard was so dirty, I used the hose to wash it off but it still look dirty. I sprayed the cleaner on the top rails, left it on a minute or two and wiped it off. My rails looked so shiny and clean! They looked brand new.
Phenomenal
The disinfecting spray smells good and works great on many surfaces. I'm so happy.
sanitizer spray
Good
I choose this product to avoid using wipes. It works perfectly on any surfaces.
Great job!
Smells good.
Easy to use.
Cleans and disinfect
Very good
I'm using this disinfecting in all my works. I used to clean houses.
Smell so good. I recomend this product