The ultimate, germ fighting A-Team! Our Disinfecting Value Kit—complete with disinfectant spray and disinfecting wipes– cleans, deodorizes and disinfects in one easy step, no rinsing required. Free from harsh chemicals, but effective against cold and flu viruses, our disinfectant spray and wipes eliminate 99.9% of household germs. They're safe for use around the whole family (furry friends included) and all throughout the home—even on food contact surfaces and children's toys!
Works Great On...
+ Countertops
+ Tables
+ Cabinets
+ Appliances
+ Doorknobs
+ Fixtures
+ Car keys
+ Garbage cans
+ Baby care surfaces
+ Computers
+ Smart phones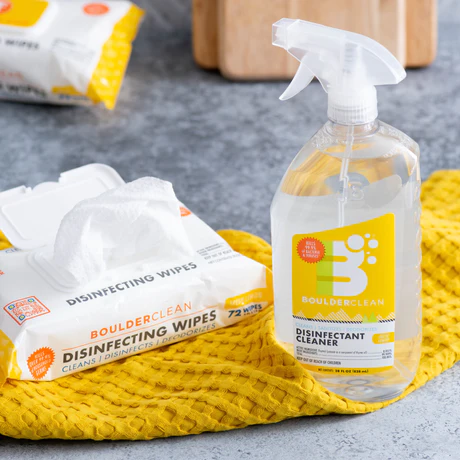 INGREDIENTS
To see a full list of ingredients + SDS information, view our Disinfecting Wipes.
Ingredients - How They Work
+
FAQ
Our Disinfecting Kit includes two pouches of wipes and one 28 oz. bottle of spray.
Plants can clean!
Was not expecting the cleaning power of this kit nor the sweet smell. Im obsessed with the smell, but more obsessed with the cleaning power of this product. Way beyond the other brands I have been using. And the dishwasher soap – omg – sparkling clean without that awful chemical smell!
Reunited and it feels so good!
My local sprouts market stopped caring the disinfectant. I finally took matters into my own hands and order directly from your website. Each bathroom and kitchen is now armed and ready for dirt, germs and pathogens! Seriously, I do love these products.