Infuse every load of laundry with plant-based softening agents and a fresh citrus fragrance to leave your clothes and linens seriously soft, cozy and comfortable. Our liquid fabric softener also reduces static cling, fights wrinkles, leaves no residue and eliminates the waste of dryer sheets.
More Reasons to Love...
+ Prevents static
+ Freshens fabrics
+ Fights wrinkles
+ Rinses clean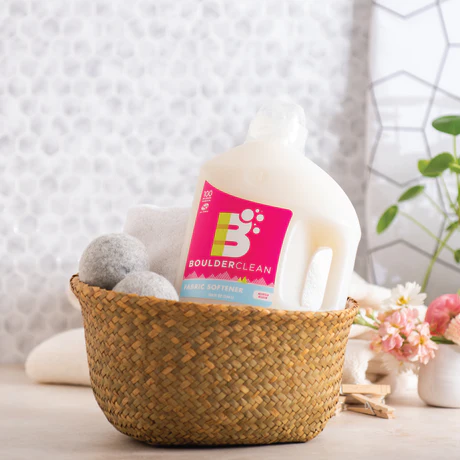 How To Use
1. Pour into your automatic dispenser or add it during the final rinse cycle.
Do not pour directly onto clothes. Safe for use in high-efficiency and conventional washing machines.
INGREDIENTS
Purified Water, Dialkylester Ammonium Methosulfate (Plant-Derived Fabric Softener), Fabric Softener Fragrance, Methylisothiazolinone (Preservative).
Ingredients - How They Work
+
INGREDIENT
WHAT IT IS/HOW IT WORKS
CAS NUMBER
INGREDIENT
Purified Water
WHAT IT IS/HOW IT WORKS
Solvent
CAS NUMBER
INGREDIENT
Dialkylester Ammonium Methosulfate
WHAT IT IS/HOW IT WORKS
Plant-Derived Fabric Softener
CAS NUMBER
91995-81-2
INGREDIENT
Fabric Softener Fragrance
WHAT IT IS/HOW IT WORKS
Natural fragrance meeting IFRA standards; see IFRAorg.org
CAS NUMBER
Proprietary
INGREDIENT
Methylisothiazolinone
WHAT IT IS/HOW IT WORKS
Preservative
CAS NUMBER
2682-20-4
Boulder Clean Fabric Softener SDS. Ingredients may include those found at http://www.ifraorg.org.
FAQ
Yes, you can indeed use the liquid from our 100oz Fabric Softener, place it in a spray bottle and use in the dryer cycle instead.
I absolutely love this!
The fabric softener aspect is fine, what I LOVE is that it releases static electricity in the dryer which means that dog (and a little cat) hair hits the filter for removal/disposal. Amazing! I'm not willing to fiddle with washer-based softener with all its drawbacks, but I really don't want the dog hair going in to come back out on the clothes and covers. It's been tough to find this product over time (Amazon yes then no, Home Depot the same but Google led me here), and I'm thrilled to buy a BIG bottle to refill the individual spray bottles I saved. Thanks for a great product!!!

Fabric softener
Love, love, love, this fabric softener!
As a rule, identified use fabric commercial fabric softener because I know the products are tested on animals – mostly rabbits. That is appalling to me. ( more on that, later.)
This softener leaves our clothes soft and the fragrance is wonderful. I use it along with my wool dryer ***** and our clothing is static free and soft.
My son and husband wear work clothes that are very dirty and smell awful at the end of the day. This softener, along with the Boulder Clean Laundry detergent, gets their clothes clean and smelling fresh.
This is the first time I have tried this product and I'm thankful I did. I purchased 2 large bottles of it and will definitely order more when I needed.
Thank you, Boulder Clean for not testing your products on rabbits or any other animal. Rabbits are companion animals and our house rabbit Harriet is a member of our family. We love her!
Thank you for not testing on her friends.
Fragrant and eco friendly
Love that it works well AND is eco friendly.
Works great
Does a great job without all those bad chemicals!
Boulder Clean fabric softener
I love this fabric softener and is the only one I have used for many years!

Enjoyable
I do enjoy this but I'm not usually a fabric softener user but I just genuinely love this brand so I wanted to try it out. The smell in this detergent smells great but in the softener it doesn't come out smelling the same. In meaning that the smell isn't as strong in the softener.
Great fabric softener even for kid's with sensitive skin
I use this along with the Citrus scented Laundry detergent. It doesn't overly scent our clothes just leave them smelling clean and fresh. So much better than the "Free and Gentle/Clear" which are full of anything but gentle chemicals!! Unfortunately, I can't buy them at any grocery store, Target or Costco. So I order 4-5 at a time so I never run out!!
Love Boulder Clean
I like pour. environment friendly product, there's not a bunch of perfume and it leaves clothes with a very lightweight citrus scent. Only improvement is the pour spout, it holds the softener liquid around its edge and doesn't drain so it spills when you pour.
Amazing!
I absolutely love this fabric softener. It works great and I don't have to worry about it leaving stains on my clothes!
LOVE this fabric softener
This fabric softener smells so good! I use this in my front loader and use dryer ***** in the dryer. Our clothes are super soft and smell great! Love the natural ingredients!! Thanks guys!
Mountain Fresh Fabric Sofetner
I like the scent a lot! Most non-toxic fabric softeners are lavender which is nice but gets old with no other choices. This fabric softener works very well on all of my clothes. I would highly recommend it. In my opinion all of 1908 Brands products are great! 🙂

great smell
Good softener with a pleasant odor that works. Spout can be a little messy pouring.
5 Stars
This is a wonderful product. After 6 months of continuous spraying of the inside of the drum with this softener, it has never produced a sticky layer on the machine or on the filter. In contrast, most dryer sheets are bad for the filter. It is also very cost effective. Finally, I like the way the clothes come out of the dryer, wrinkle free and soft.