Surface Cleaning Refill Starter Kit – 16oz
Surface Cleaning Refill Starter Kit – 16oz
B-CLEAN BY BOULDERCLEAN
We've built a better cleaning system—one with uncompromising cleaning power and less plastic waste! Our eco-friendly, refillable system makes it effortless for you to clean sustainably by pairing reusable glass bottles with concentrated cleaning tablets that activate simply with tap water. Begin your zero-waste journey and clean with conscience: get your bottles once in the Starter Kit, then reuse them and and again.
WHAT'S INCLUDED?
Spray your way through dirt and grime with our top-notch trio of refillable cleaners. Our refillable cleaning products are formulated for effective, streak-free cleaning while reducing plastic waste. We've got every hard surface in your house covered—from your bathroom tile, to your kitchen counters, to your mirrors.
1 packet of All-Purpose Refill Cleaning Tablets

1 packet of Glass + Surface Refill Cleaning Tablets

1 packet of Bathroom Refill Cleaning Tablets

16 ounce Glass Cleaning Bottles

 x 3
More Reasons to Love...
+ 90% less plastic
+ Just add water
+ Dissolves in minutes
+ Easy and convenient
+ Plant-based
+ No animal ingredients
+ No dull residue or film
+ No harsh fumes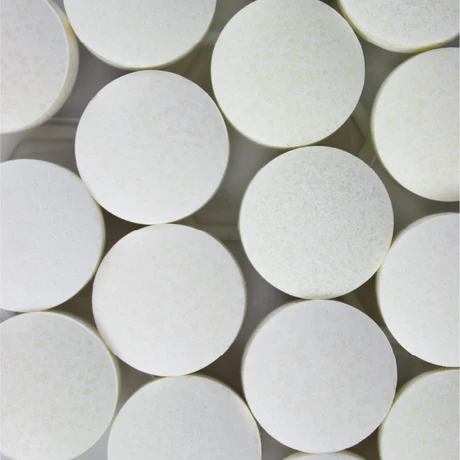 How To Use
We make cleaning your home from top to bottom a simple affair. It all comes down to this easy routine: REFILL. REUSE. REPEAT.
1. Fill the bottles, a little more than half way, with warm water.
2. Drop in tablets and wait approximately ten minutes for fizz to slow.
3. Fill remainder of bottles and allow tablets to fully dissolve.
4. Use cleaner as directed.
Test first in an inconspicuous area.
Ingredients - How They Work
+
Boulder Clean Surface Cleaning Refill Starter Kit - 16oz SDS. Ingredients may include those found at http://www.ifraorg.org.
FAQ
The Refill Starter Kit comes with one packet of tablets for each of the three cleaners: all-purpose, bathroom and glass. Each packet itself contains two tablets, which is enough to make one 16oz bottle of cleaning solution.
The best
Es impresionante. Me encanta su botella de vidrio,no tan grande,liviana para usar en todis mis servicios de limpieza
Ditch Your Traditional Cleaners In Plastic Bottles
Sustainability aside, these Refillable Cleaners earn five stars ⭐️ ⭐️ ⭐️ ⭐️ ⭐️ in the efficacy department! These are now my favorite cleaners. I seriously cannot boast enough about the scent and the cleaning power of these products. And I have zero concerns about using it around food, family and pets.
Wonderful product
Great products and am enjoying the glass bottles, so tired of all the plastic products. As a matter of fact, I ordered two starter sets, of course filled with Boulder products which I've been buying for years now, I also used the extra bottles for some of your other products for instance the stainless/granite cleaner, just put a label on the bottle. I'm going to purchase two additional starter kits when I complete this survey, one for each of my daughters. Thank you for these amazing products…
Eco friendly !
Works as advertised, will have to see how much the tablets cost. Would recommend !
Great concept!
Reduction of plastic and easy dissolvable tablets in addition to being a great cleaner!
Surface Cleaning refill plus Boulder Clean laundry soap
Really like these products, environmentally friendly and work great!
An Amazing new product!
I ordered the kit with three bottles and tablets. I have tried the solutions and they all work well. Actually, the window washing liquid is much better than anything I have had before. They are super easy to mix and think how they save the environment from plastic waste! Awesome product.
Finally
This product cleans so well, plus I never have to buy and throw away another bottle. It's about time!
Love your products
I love your All Purpose, Bathroom and Glass cleaner. They smell great and work well. I love the convenience of the tablets.