The Best Wash And Care Tips For Bras
Avoid The Common Mistakes With Your Intimates Come Wash Day. Bras Need Love Too, Treat Them Well.
Picture your undergarment drawer: the basics, your favorites, and those special-occasion-only items. We know you spent a lot of time and money on this drawer, and to have something ruined in the wash would be the worst way for these garments to go out. After all, finding a high-quality, well-fitting bra is priceless—yet they cost quite a large sum. So grab those dirty bras, underwear and shapewear and head to the laundry room because we're about to lay out how you can wash your wears without ruining them.
Regardless of which method you choose, water should be cool to luke-warm with a mild laundry detergent. Boulder Clean's plant-based detergent is perfectly suited to clean without being too harsh on delicate clothes. On average, a good bra should last between six months and two years, as long as you clean and care for it properly. So do yourself—and your boobs—a favor and don't cut any corners when it comes to laundering them.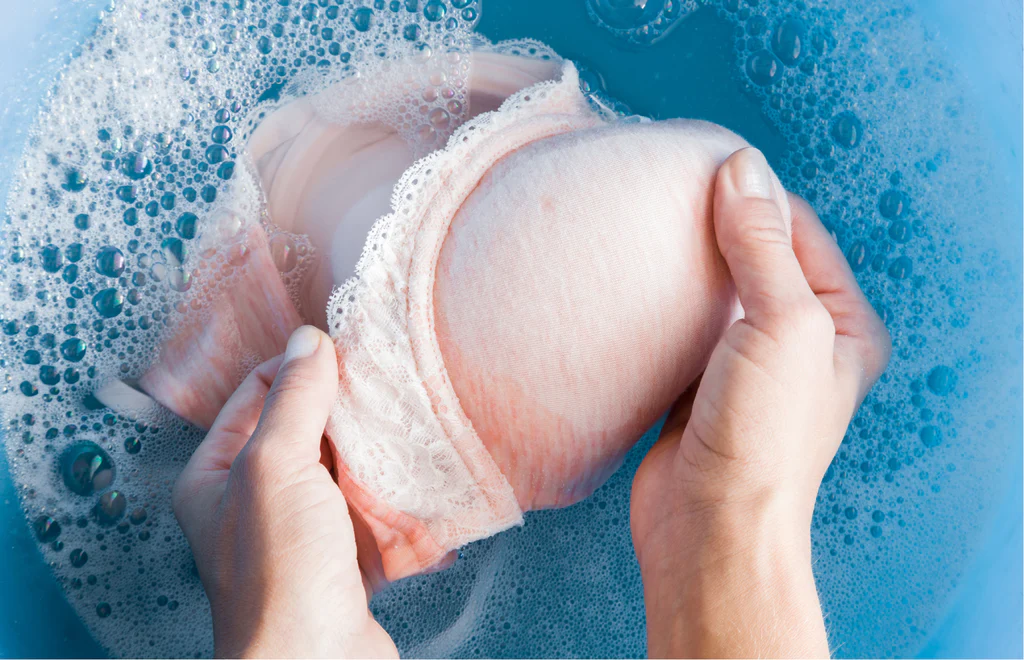 Methods For Washing
1. Hand Washing
Yep—Hand washing. It's the most recommended way to deal with delicates. Although it seems daunting, it can be handled in a few simple steps (it's mostly waiting for it to soak!) Hand washing is definitely the way to go if you have an extremely delicate items that are high-end, lacy or expensive.
What you need:
Instructions:
1. Pour a small amount of mild detergent into a sink full of lukewarm water.
2. Fasten all closures on the bra, then turn inside-out and submerge in the sudsy water. Let soak for 5 minutes.
3. Carefully knead the garment under the water, then soak for another 5 minutes.
4. Drain the soapy water and refill with clean, cool water. Knead the fabric again to rinse. Repeat this step until the bra has been rinsed out fully.
5. Drain the sink, then gently press any excess water from the fabric of the bra (avoid wringing it out, a gentle press will do).
6. Lay the bra out on a clean, dry towel. Roll the towel up, then squeeze it gently to absorb the remaining moisture from the bra.
7. Remove the bra, lay it out on a second dry towel and allow to air dry completely.
2. Machine Washing
If you're completely against hand washing, or just in a bind for time, you can wash simple bras and underwear in the machine. Machine washing is best on bras that don't have an underwire or any delicate details. Make sure your hooks are fastened, and always wash with similar colors.
What you need:
Zippered Mesh Laundry Bag
Clean, dry towel
Instructions:
1. Place bras (fully fastened) in a zippered mesh laundry bag and zip it close (avoid over crowding the bag, and opt to was fewer at a time for guaranteed freshness).
2. Place the bag in your washing machine, and add the recommended amount of mild detergent.
3. Run the garments on the most gently cycle your machine offers. Once finished, remove from the bag and lay it flat on a towel to air dry.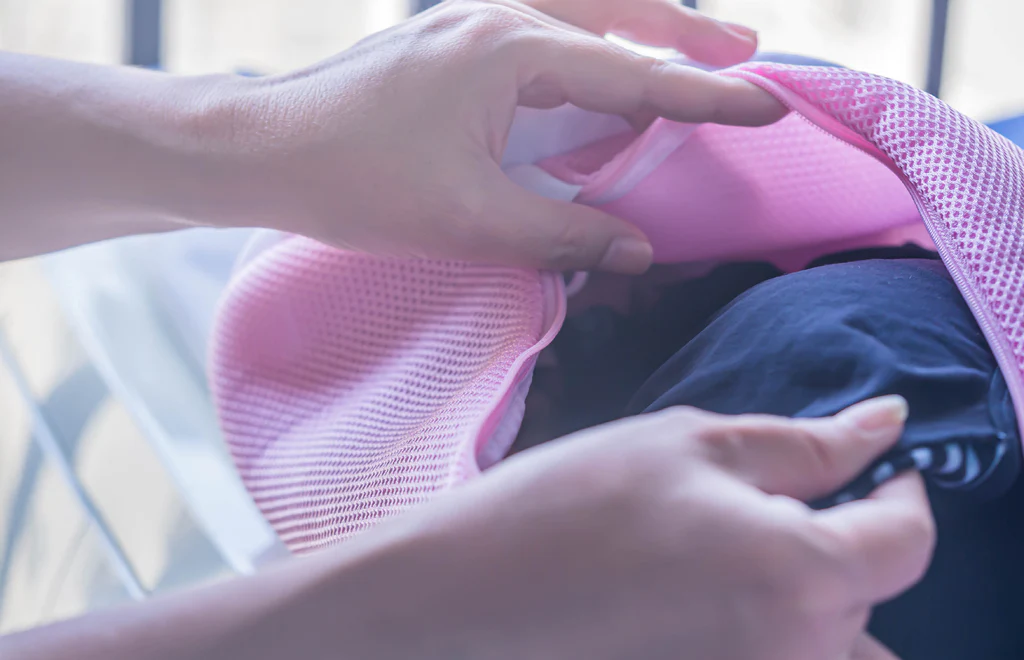 Common Care Tips
Separate Bras and Store Flat
Separate your molded cup bras from the rest and stack them so they can maintain shape. Molded cups will pucker and bend if inverted or folded.
Don't Wash TOO Often
Unlike underwear, you really don't need to wash your bra every time you wear it. In fact, washing your bra too often wears out the fabric and elastic faster. Obviously, if it smells or you've been sweating a lot you want to get it clean. But if it's dry and not particularly dirty, it's perfectly fine to wear it again (and again). When to wash your bra is really your choice—just assess based upon how recently you washed it, how many times you've worn it, and the duration of time you've worn it. Also take into account the weather (has it been terribly hot?) and what activity you've been doing.
Use Lingerie Bags
We advise washing bras by hand but if you would rather put them in a machine (absolutely no judgment here), use a mesh lingerie bag. The bag will protect bras from becoming tangled and stretched out, and keep hooks from snagging on any other clothing you're washing with them. (Close your bras first so they don't catch on each other or the bag.) If you're using a lingerie bag, we still suggest washing on low heat, gentle cycle.
Care for Sports Bras like Regular Bras
Although it may be tempting to toss your sports bras in the washing machine next to a pair of your favorite leggings, it's important to remember that they need a little extra love, too. Sports bras with underwire need to be cared for just like a regular bra with underwire—wash them in a lingerie bag, and try not to put them in the dryer.
Your Detergent Is Too Strong
Most 'regular' detergents may be a bit harsh for your bras, and it can weaken the fabric over time. A gentle detergent will not only get the job done, but it will also lengthen the lifetime of your garment. We recommend using a delicate lingerie-friendly soap like Boulder Clean Laundry Detergent—it will lengthen their lifespan. And of course never use bleach!
Always Wash Like With Like
When machine washing, never wash with heavy items like jeans, sweatshirts or towels. Those things are likely to cause damage to elastic and metal or plastic underwire.
Always Dry Your Garments Properly
Always air dry when possible—it's the gentlest way. Drying bras in a machine can damage the elasticity in the band and weaken the fabric over time. The action of the wires banging against the drum of the dryer will also create bumps in the underwires, which can cause them not to lie flush against your body—which is very uncomfortable! Hang bra by the center gore, the piece between the cups, when you air dry. Hanging wet bras by their straps can stretch them out. IF you don't have the time (or patience) to wait for your bras to air dry, dry them on an extremely low heat setting to cause minimal damage.