Turning Your Backyard Into An Oasis
Turn Your Backyard Into An Oasis
If we've learned anything over the past year, primarily spent confined to our apartments and houses, it's that the outdoors are so vital to our mental and physical wellbeing. While we are starting to see some sense of normalcy return, as public spaces begin to open back up, it's important to have an outdoor area of your own that you can visit when you need a serene place to reset. Check out some of our tips below to help you transform your backyard into your very own outdoor oasis!
Dress Up Your Deck (or Patio)
Make your deck a destination by defining different activity zones within the space. Carve out spaces for relaxing, dining, entertainment (outdoor movies anyone?!) and even exercise.
Add an Outdoor Kitchen
If you love eating outdoors and regularly find yourself grilling your meals, especially during the spring and summer, you need an outdoor kitchen area. You don't need anything fancy, but consider a countertop for food prep and if you have the space and the budget, conveniences like an outdoor refrigerator and sink to make meal prep and cleanup a breeze.
Privacy Is Key
Your outdoor space will feel more like an oasis if it has a sense of enclosure. Lattice, pergolas, and landscaping can help to define outdoor spaces and screen views of neighboring houses leaving you with a private, and quite area for yourself!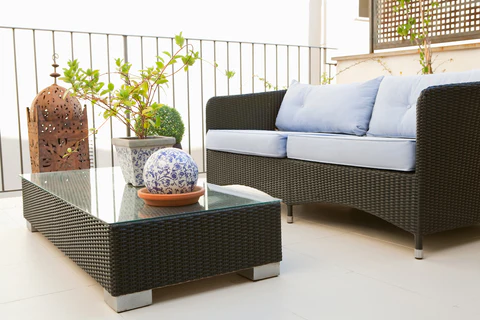 Furnish For Comfort (and Durability)
You have more choices than ever when it comes to furnishing your outdoor rooms. Wrought iron and cast iron, wrought or cast aluminum, and traditional wood are classic options. New synthetic, weatherproof and fabrics are also now available, offering the same style and comfort as anything you would have inside your home. We recommend finding outdoor furniture that will stand the test of time, suits your style and is comfortable so your time spent outdoors is actually relaxing!
Add a Hot Tub or Pool
If you have the room and budget, there is nothing better than having your own hot tub or pool to truly transform your space into a dream outdoor retreat. Peaceful soaks at the end of the day are the perfect way to unwind and feel like you've been transported to a spa! Plus, a couple laps in the pool is a great way to get a little extra exercise and boost your endorphins!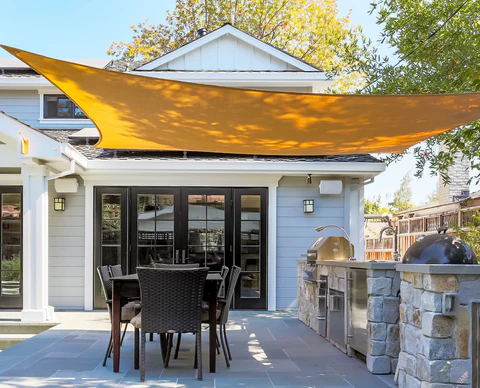 Save Some Room For Shade
Sure, an umbrella provides much-needed shade. But the sight of one conjures up images of a vacation at a resort, on a sandy shore or next to a pool. There's something about its round shape, projected above the other pieces of outdoor furniture, that looks fun and inviting, beckoning you to sit under its colorful form (or patterned or striped) and relax, maybe sip a cocktail or icy beverage.
Ways to create shade in a garden include:
Umbrellas
Gazebos and pergolas
Awnings
Vines growing on overhead roofs or arbors
Trees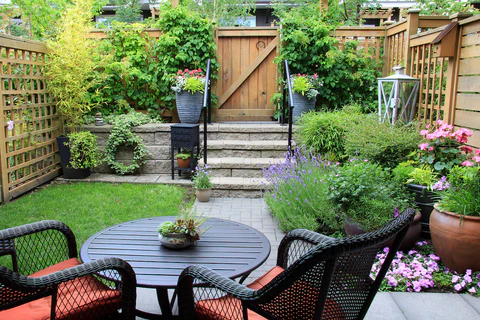 The Power of Plants
Don't have a pool or room for a hot tub? You can always transform your backyard into your dream outdoor retreat with lush plant life. To create an almost 'jungle-like' vibe try incorporating bamboo and an abundance of vegetation surrounding your sitting area. You can also plant a variety of flowers and bushes to create a colorful and texturally unique space, that is visually pleasing.
It's All About The Details
Fountains, fireplaces, and fire pits enhance the aesthetics and usefulness of your outdoor space.
Fountains and other water features add the soothing sound of water and can serve as the focal point of your outdoor space. Fireplaces make a natural focal point and can help define space and provide privacy for an outdoor area. Fire pits, whether built-in or moveable, also serve to draw people together and can extend the usefulness of an outdoor into cooler weather.
Finally, accessorize your outdoor areas with garden statuary, weatherproof art (such as plates, garden plaques, or decorative wrought iron), and pillows covered in weatherproof fabrics. These touches will turn an ordinary patio or deck into a welcoming, personal space for outdoor living!