Ways To Prevent Mud, Dirt, Snow, And Grass From Trekking Into Your House
All seasons are beautiful in their own way, from leaves dropping during the fall to mounds of snow during the winter. However, you don't want to track all that outside debris inside your home. Strategies like enacting a shoes-off policy, adding easy-to-clean rugs and doormats, and investing in hands-free boot removers can prevent germs and dirt from creeping inside your home. Here are five smart ways home experts prevent mud, dirt, snow, and grass from trekking indoors.
Designate just one or two entrances for muddy feet and paws.
The first step in keeping mud out of your house during wet weather is to limit the number of places where it can be tracked inside. It is best to choose an entrance that leads into a room that doesn't have carpet or any furniture that a dog or child might jump on before you can get them out of their dirty shoes or wipe the mud off of their feet.
A garage, laundry room, mud room or kitchen usually works best and is far more likely to have a floor that is easy to clean.
DIY Mudroom
If you are at all concerned about mud being tracked into your home during rainy weather, you definitely need a mud room — or at least a mud area. If you already have a mud room in your home, you are way ahead of the game. The whole purpose of this room is to provide a space between the oh-so-dirty outside world and the indoor living spaces in your home. This single area will likely do more to keep dirt and mud out of your home than any other mud-reducing solution.
If you do not currently have a mudroom, it is time to make one.
Any spot without carpet at an exterior entrance will do, but it is usually most convenient if it is located in a garage or laundry room that has a handy door to your backyard or side yard.
If you enter your home through the front door, a hall tree works wonders for controlling mess and clutter. It has cubbies with bins and baskets for scarves, hooks for hanging bags, easy-access shoe shelves and hidden storage behind its shuttered doors.
If you enter your home through the garage, it's easy to create a makeshift mudroom. Lay down large area rugs to keep the dirt out of your house and install sufficient shelving so bags can be stored out of the way, yet in an accessible spot. Locker-style storage offers individualized spaces for DIY supplies, sports equipment, and outerwear.
It is also quite convenient to locate the mudroom near your laundry room or the laundry area in your garage so that everyone can drop off their wet or dirty clothing without carrying it through the house.
A covered front porch is also a great spot for an open-air mud room where people can remove wet or muddy shoes and clothing before entering the house. When it is raining, it is much harder to convince someone to stand in the downpour while they take off their shoes, but if they have protection from the elements while they are still outside, they will have no excuse for not taking the time to remove muddy shoes and clothes before coming inside.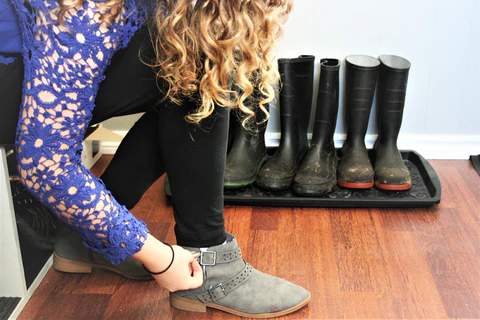 Adopt a shoes-off policy.
It is a good idea to make your house a no-shoe zone regardless of the weather. This helps to keep mud outside when it's raining, but even when the sun is out, this helps keep dirt, pesticides and other unsavory elements from being tracked into your home.
A boot tray is a simple, inexpensive solution for muddy boots and shoes and can be placed on a porch or in your mud room by the door. And with a boot remover you can stop struggling with taking your muddy boots and shoes off—you don't need to touch your boots to take them off, so you can keep your hands clean. If you want to go a step farther, you can keep a basket of slippers just inside the door for use by your family members and guests once they have taken their shoes off outside.
It is also a good idea to have shoes that you keep by the door that are only used for working in the yard or garden or that are only used for playing outside. Designating shoes strictly for gardening or outside play is a great way to ensure that they are not worn inside and to keep mud out of the house.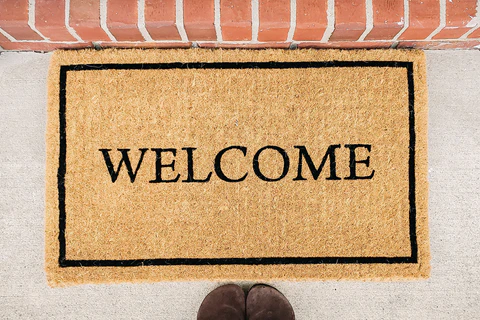 Add rugs and runners at your entryways.
If your goal is to keep mud out of the house, every entrance needs a mat on the outside and a rug on the inside. The mat-and-rug system is the ideal solution for catching some of the mess before it makes it into the house.
Of course, not just any mat will do; it needs to be a bristly or rubber mat that will trap or scrape off mud as your pets, family members and guests walk on it. Look for options with a high-low surface rib design. This will help to trap dirt and moisture in the recessed channels below shoe-level to keep grime outside. A large mat that is difficult to avoid is best, but you can also use multiple mats if you are not able to find one large enough to suit this purpose. There are even specially designed doormats made specifically to soak up water and mud from pups who have been out to play after the snow or rain.
Just inside each of your doors, you should have a washable rug. Something more like a runner leading up to your door is generally most effective. While it might be tempting to purchase nicer rugs that are more attractive, it is most likely not worth the expense. These rugs are going to be doing a lot of work and spending a lot of time being tumbled around in your washer and dryer, so the smarter choice is to go for something sturdy and functional that you will not mind ruining. An easy-to-clean option is to use an indoor-outdoor rug. Old throw rugs that have seen better days also work well for this, as do old bathroom rugs.
Keep towels by the door.
Keep a basket of clean towels in your mud room or by your designated entrance. This will ensure that a towel is always handy when you need to dry off a wet child or wipe muddy paws.
Pay attention to your flooring.
The flooring in your mudroom or entryway should withstand water, dirt, and excess debris and be easy to clean. Durability and visual appeal are important factors to consider when choosing the best flooring type for your entryway. There are a variety of tile and vinyl options that will complement your existing interior themes while offering the strength and moisture-resistance you need. Tile and high-quality vinyl are waterproof and will provide protection.
Install good ground covers.
Ground cover is a particularly important part of your overall landscape design if you are trying to keep mud out of your home. After all, there would be no mud to track in if proper ground covers are in place to ensure that there is no mud.
Most of the mud that is tracked from your yard into your house is either going to originate in bare patches of dirt or in a natural grass lawn. It is particularly important that you limit mud in areas where your children or pets play, in your pets' favorite bathroom spots and in any areas that are near entrances to your home.
Natural grass can be a nightmare during and after rain, and if you have children, pets or guests who walk through the grass and into your home, you may end up with both mud and wet blades of grass tracked all over your floors. An easy solution to this problem is to consider is gravel, which is a practical choice that allows for proper drainage without puddles or muddy patches.
Your Turn…
What tricks do you employ to prevent outside dirt and mud from getting traipsed through the house?